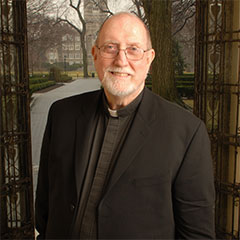 Rev. Patrick J. Ryan, SJ
Fr. Ryan's goal as the McGinley Professor of Religion and Society is to foster an understanding of the common ground among Christianity, Judaism, and Islam. His ultimate aim is to establish a trialogue among these three faith traditions.
Fordham President Rev. Joseph McShane, SJ called Fr. Ryan's appointment as the McGinley Professor, "a new phase in the history of the McGinley Chair."
Annual Fall McGinley Lecture
Pandemics and the Blame Game: How Plagues Have Affected Jews, Christians, and Muslims
The Reverend Patrick J. Ryan, S.J.
Respondents
Rabbi Abraham Unger, Ph.D.
Department of Political Science
Wagner College
Ebru Turan, Ph.D.
Department of History
Fordham University