Laurence J. McGinley Professor of Religion and Society Fordham University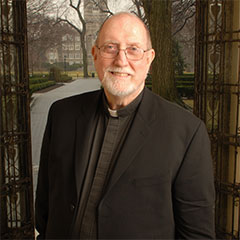 Patrick J. Ryan, SJ, is the Laurence J. McGinley Professor of Religion and Society at Fordham University. A native New Yorker, Fr. Ryan entered the Society of Jesus in 1957, and was ordained to the priesthood in 1968. He earned bachelor's and master's degrees in English Language and Literature at Fordham, and a PhD in the comparative history of religion from Harvard University (with a specialization in Arabic and Islamic Studies), where he studied with the famous Canadian scholar of Islam, Wilfred Cantwell Smith and the German scholar of Islamic mysticism, Annemarie Schimmel.
For about half of his life as a Jesuit priest, Fr. Ryan worked in West Africa, mostly in Nigeria and Ghana. He has had faculty and administrative appointments at the University of Ghana, the University of Cape Coast in Ghana, and Hekima College in Kenya, and the Gregorian University in Rome. He served as the first President of Loyola Jesuit College, a secondary school in Nigeria 's federal capital, Abuja.
Fr. Ryan has held numerous positions at Fordham. He taught Middle Eastern Studies from 1983-1986, held the Loyola Chair in the Humanities from 1996-1998, and served as Fordham's Vice President for University Mission and Ministry from 2005-2009 until his appointment in July 2009 as the McGinley Professor, succeeding the late Avery Cardinal Dulles, SJ "I have increasingly centered on what I call the 'trialogue' of Judaism, Christianity and Islam," Fr. Ryan told Fordham's newspaper, The Ram, when asked what he hopes to accomplish in his new role. "That will be the focus of my work in the McGinley chair, and I am hoping we may be able at Fordham to provide a place here in the capital of the world where Jews, Christians and Muslims can engage in intellectual exchange."
The author of numerous articles, scholarly and popular, Father Ryan has published four books: ;Imale: Yoruba Participation in the Muslim Tradition: A Study of Clerical Piety (Scholars Press, 1978); The Coming of Our God: Scriptural Reflections for Advent, Christmas, and Epiphany (Paulist, 1999), When I Survey the Wondrous Cross: Scriptural Reflections for Lent (Paulist, 2004) and Amen: Jews, Christians and Muslims Keep Faith with God (Catholic University of America Press, 2018).