Jurist in Residence Program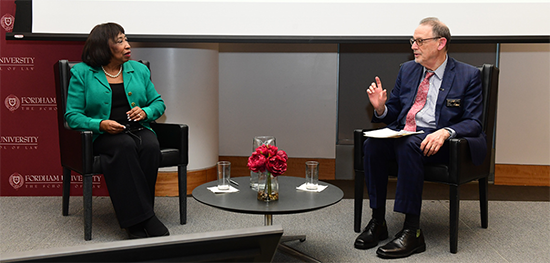 The Center for Judicial Events & Clerkships Jurist in Residence Program brings prominent judges from across the country to the law school to engage with our law school community and share their expertise.
Our Jurists have the option to visit for a single day or a multi-day engagement.
During the course of their visit, judges are welcome to engage in all aspects of law school life from co-teaching courses to hosting roundtable discussions with student cohorts on topics ranging from their path to the bench to clerkships. In addition, we host an informal faculty lunch in honor of our jurist's visit.
Distinguished Jurist in Residence Lecture
The Jurist's visit culminates with a lecture to the entire law school community – faculty, students and alumni – on a timely and important legal topic of their interest or within their expertise. The lecture is immediately followed by a reception. The lecture is subsequently published in the Fordham Law Review.
Past Jurists in Residence:
Hon. Jeffrey Sutton, U.S. Court of Appeals for the Sixth Circuit (March 2020)

Lecture Topic: 51 Imperfect Solutions: The Role of States in Protecting Individual Rights

Hon. Amy St. Eve, U.S. Court of Appeals for the Seventh Circuit (October 2020)

Lecture Topic: What Juries Really Think: Practical Guidance for (Future) Trial Lawyers

Hon. Solomon Oliver Jr., U.S. District Court for the Northern District of Ohio (October 2020)

Lecture Topic: Race and Policing: Some Thoughts and Suggestions for Reform

Hon. Stephen Higginson, U.S. Court of Appeals for the Fifth Circuit (March 2022)

Lecture Topic: Judicial Dilemmas After Ten Years on Bench: "Curious Judge" Seeks Law Student Advice.

Hon. Bernice Donald (ret.), U.S. Court of Appeals for the Sixth Circuit (February 2023)

Lecture Topic: Toward a More Perfect Union: Overcoming Division, Discrimination, and Distance Through the Rule of Law