Conference on International Arbitration and Mediation
Join us for engaging events with global leaders in the field of arbitration and mediation.
PLEASE NOTE: IN-PERSON REGISTRATION IS NOW CLOSED. You are more than welcome to join us virtually via Zoom. Please click here to join the Zoom Webinar.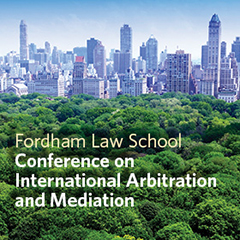 The 17th Annual Conference on International Arbitration and Mediation
Key Issues in International Dispute Resolution: 2022
Friday, November 18, 2022
9:30 a.m. – 3 p.m.
Fordham Law School
Skadden Conference Center, Second Floor
150 West 62nd Street | New York, NY 10023
Live Broadcast Available via Zoom

Keynote Address
James H. Carter
International Arbitrator
The speakers will also address:
What Are the Best and Latest Case Management Techniques: A Conversation Among Our Panelists and Conference Participants
Alternate Dispute Resolution and Remedies Arising Out of the Crisis in Ukraine
Registration is open for virtual attendance
The conference is co-presented with the Conflict Resolution and ADR Program and Louis Stein Center for Law and Ethics at Fordham Law.
Conference Co-Chairs: Benno Kimmelman and Edna Sussman
Visa Letter Requests Contact: Shanelle Holley