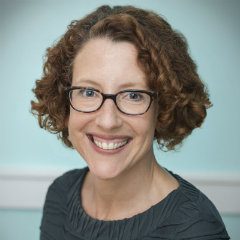 Adjunct Professor of Law
Amy Barasch Esq. is the Executive Director of Her Justice, a non-profit that connects over 7,000 low-income women and children to private attorneys every year. Ms. Barasch has devoted most of her career to the issue of intimate partner violence at nonprofits, government agencies, and law firms. Until fall, 2012, Ms. Barasch served as the Executive Director of the New York State Office for the Prevention of Domestic Violence. During her tenure,
Ms. Barasch was central to the implementation of improvements made to New York's response to intimate partner violence, such as the launch of a statewide database of police-reported domestic incidents; the inclusion of domestic violence as a high-priority issue in all State-level anti-crime initiatives; the creation of a State-level Fatality Review process; the issuance of a domestic violence and the workplace policy in all state agencies; and ensuring responsive and up-to-date training for local governmental employees in the areas of child welfare, public safety, temporary assistance, healthcare, and probation. Prior to joining state government.
Ms. Barasch was a member of the New York City Office to Combat Domestic Violence where she designed and ran an interagency high risk case conferencing program in Brooklyn and the Bronx, which became the basis of the Brooklyn Family Justice Center. Ms. Barasch led the design team and ran the Brooklyn FJC until she joined the State. Prior to joining the City, Ms. Barasch represented victims of domestic violence in family court in order of protection, custody and visitation, and abuse and neglect cases, in private practice, and as the creator and director of a law student externship program in Westchester, New York at the Pace Women's Justice Center.
Ms. Barasch has published and spoken publicly about partner violence throughout her career; and has served as the chair of the NYC Bar Association's Domestic Violence Committee, as a member of the New York State Domestic Violence Advisory Council and the Avon Foundation's Advisory Council. She is currently a member of the NYC Bar Association's Pro Bono committee.
Education
BA Brown University, 1986
JD Columbia Law School, 1996
Mailing Address
Fordham University School of Law
Legal Writing Program
150 West 62nd Street, Room 7-175
New York, NY 10023