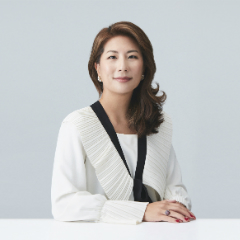 Adjunct Professor of Law
Angela Byun is the Head of International Strategy and Development for Golf Digest and is responsible for all international revenue streams including print, digital, video and brand extensions. Golf Digest is the #1 distributed sports publication in the world reaching more than 30M+ golfers with 30 international editions in 18 languages. Golf Digest is part of Condé Nast, the premier entertainment company renowned for producing the highest quality content for the world's most influential audiences. Reaching more than 263+ million consumers worldwide, the company's portfolio includes some of the most iconic brands like VOGUE, GQ, Vanity Fair, Glamour, Architectural Digest, Wired, Bon Appétit, and The New Yorker.
From 2006-2015, Angela was responsible 2 corporate groups at Condé Nast -- Business Affairs and International Business Development. She led all negotiations for Condé Nast's new business development deals including licensing, e-commerce, digital and event partnerships, and joint ventures. Angela also oversaw the international expansion for Women's Wear Daily (WWD) and Style.com. She was instrumental in launching Style.com Arabia in 2012 -- which transitioned into VOGUE Arabia in 2017, and Style.com Indonesia in 2014, the first fashion titles for Condé Nast in both regions. Under her leadership, she successfully generated new multimillion dollar partnership deals in Asia, EMEA, and Latin America. She also spearheaded global media buys across 5 continents and created innovative solutions for luxury clients like Mercedes-Benz and Rolex.
From 2004-2006, Angela was the licensing attorney at Jones Apparel Group, and prior to that, she was an attorney at Paul Weiss. Under the Clinton administration, Angela was a law clerk in the Chief of Staff's Office at the White House in 1999, as well as intern in 1996. She was worked at the U.K.'s House of Commons in Parliament.
Angela is an Adjunct Professor at Fordham Law School, serves on the Executive Council of Diversity at Condé Nast with Anna Wintour and David Remnick, volunteers and sits on various non-profit boards in NYC/NJ, has frequently guest lectured on intellectual property and media matters at Columbia Law School and the Fashion Law Institute, and is a CORO Leadership New York Alum – an extensive leadership training program exploring civic leadership, diversity issues, and New York City public policy.
Angela received her J.D. from the University of Wisconsin-Madison Law School, B.A. in Political Science and History from the University of California at Berkeley, and has also studied Politics, Philosophy and Economics (PPE) at Oxford University. Her passion and mission is to support and champion great people, brands, causes and organizations.
Mailing Address
Fordham University School of Law
Legal Writing Program
150 West 62nd Street, Room 7-175
New York, NY 10023