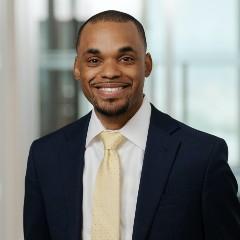 Adjunct Professor of Law
Derick D. Dailey serves as Senior Counsel to the New Jersey Attorney General. He advises the Attorney General on a host of criminal matters, ranging from criminal policy, policing, alternatives to policing, firearms, youth justice, racial justice, school safety, domestic terrorism, bias/hate and white supremacy. He provides oversight to the New Jersey Juvenile Justice Commission and works directly with the New Jersey State Police, the Division on Criminal Justice, and the Governor's Wealth Disparity Task Force.
Derick's writings on the criminal legal system are available here: linktr.ee/Ddailey6
Prior to his work as a senior counsel, Derick served as an Assistant United States Attorney for the District of Delaware where he was Chief of the Financial Litigation Unit, prosecuted white-collar crimes, led civil rights investigations, defended federal agencies in court, and helped manage the district's financial restructuring docket. He also served on the district's re-entry team and was a member of the office's Leadership Council. Prior to becoming a federal prosecutor, Derick was a litigation associate at a national law firm.
Derick is a 2017 graduate of Fordham Law School, where he was a Stein Scholar for Public Interest. While at Fordham, Derick took part in the Legislative and Policy Advocacy Clinic and interned at the Brennan Center for Justice at NYU School of Law. In addition, Derick served as the National Chair of the National Black Law Students Association, one of the largest student-led non-profit organizations in the world.
Before law school, Derick taught middle school in communities affected by poverty in the Mississippi Delta with the Teach for America program.
In addition to his law degree, Derick holds a B.A. in Political Science and Religious Studies from Westminster College and an M.A. in Religion and Ethics from Yale University.
Derick loves college sports (go SEC!), is a novice tennis player, and enjoys traveling with his partner and a new dog.
Mailing Address
Fordham University School of Law
Legal Writing Program
150 West 62nd Street, Room 7-175
New York, NY 10023