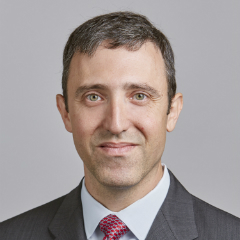 Adjunct Professor of Law
Director
PriceWaterhouseCoopers LLP
300 Madison Avenue
New York, New York 10017
646-471-1941
[email protected]
Professor Bloom is a Director in PwC's Cybercrime and Privacy services practice and is a member of the Firm's Financial Crimes Unit. He has 20 years' experience in the legal and computer industries, having served as a federal prosecutor, criminal defense lawyer and software developer.
Prior to joining PwC, Prof. Bloom was a federal prosecutor in the United States Attorney's Office for the Southern District of New York, where he investigated and prosecuted national security cyber offenses, including economic espionage, hacking of national defense and government systems, and the theft of trade secrets. In addition to his cyber work, Prof. Bloom investigated and prosecuted several high profile public corruption, financial crime, and securities fraud cases, and convicted the former majority leader of the New York State Senate and acting Lieutenant Governor of New York State of bribery and extortion. He is a 2015 recipient of the Attorney General's John Marshal Award, the highest attorney honor granted by the Department of Justice, and a 2013 recipient of the Federal Law Enforcement Foundation's Prosecutor of the Year award. Prior to joining the U.S. Attorney's Office, Prof. Bloom was an associate in Covington & Burling's white collar defense and intellectual property practices.
Before becoming a member of the bar, Prof. Bloom was a software engineer and program manager for Xerox's Palo Alto Research Center (Xerox PARC), Microsoft and Hewlett Packard. In those roles, he developed artificial intelligence algorithms for natural language processing software and drivers for network management systems.
Education
Harvard Law School JD, cum laude,
Stanford University MA, Linguistics,
Stanford University BS, Symbolic Systems,
Mailing Address
Fordham University School of Law
Legal Writing Program
150 West 62nd Street, Room 7-175
New York, NY 10023