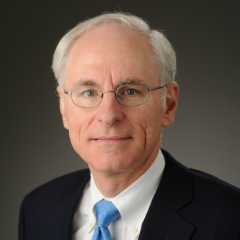 Adjunct Professor of Law
As Senior Vice President, General Counsel and Secretary of The Hertz Corporation from 1998 to 2007, Harold Rolfe supervised the legal affairs of the world's largest car rental system and North America's second largest equipment rental company; he also was responsible for the company's airport relations and a real estate portfolio of over 2,000 properties.
Mr. Rolfe was one of Hertz's principal representatives in its $18.6 billion leveraged buy-out in 2005 and its $2.3 billion of public offerings in 2006 and 2007. He was also instrumental in the development of the company's comprehensive privacy policy (one of the first in any industry to meet the requirements of both the Graham-Leach-Bliley Act and the U.S.-European Union Safe Harbor Framework), as well as the restructuring and enhancement of its business ethics and compliance policies.
Before his time at Hertz, Mr. Rolfe served for seven years as the Vice President and General Counsel of Corporation Property Investors, Inc., a real estate trust with roughly $6 billion in assets (including the General Motors Building in Manhattan and 21 super-regional shopping centers). He began his career as an Associate at Cravath, Swaine & Moore in New York, where he worked in the firm's corporate department from 1983 to 1991.
At Fordham, Mr. Rolfe has taught a section of Introduction to the Deal, a course introducing second- and third-year law students to processes, concepts, and documents they will encounter in the practice of corporate law, every spring and fall semester since 2009. He is presently working on a textbook covering and expanding on the subjects considered in his course.
Education
J.D. (magna cum laude), Harvard University, 1983.
M.A. (Economics), Yale University, 1980.
B.A. (summa cum laude, Phi Beta Kappa, Distinction in Economics), Yale University, 1980.
Mailing Address
Fordham University School of Law
Legal Writing Program
150 West 62nd Street, Room 7-175
New York, NY 10023