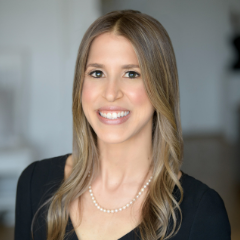 Assistant Dean of Professionalism; Adjunct Professor of Law
646-346-5108
Office: Room 8-118
[email protected]
As the Assistant Dean of Professionalism, Jordana oversees all aspects of the Professionalism Office's work, including the 1L house system and the Law School's wellness, professionalism, and peer mentorship offerings. Jordana also serves as an Adjunct Professor of Law, teaching Positive Lawyering and Peer Mentoring & Leadership. She was voted Fordham Law Adjunct Professor of the Year in 2021.
Prior to joining Fordham, Jordana served as the Assistant Director of Academic Counseling, Acting Clerkship Advisor, and a Lecturer in Law at Columbia Law School. Jordana previously clerked for the Honorable Robert D. Sack on the United States Court of Appeals for the Second Circuit, and for the Honorable Paul A. Engelmayer on the United States District Court for the Southern District of New York.
Jordana is an expert in lawyer and law student mental health and well-being. She serves as as Co-Chair of the General Programming Committee of the American Association of Law Schools Section on Balance in Legal Education, and as a member of the Law School Assistance Committee of the ABA Commission on Lawyer Assistance Programs, the ABA Attorney Well-Being Committee, and the NYC Bar Association Mindfulness & Well-Being in Law Committee. Jordana earned a Certification in Applied Positive Psychology from the New York Open Center in 2018.
Courses
Peer Mentoring and Leadership
Positive Lawyering
Publications
Jordana A. Confino, Where Are We on the Path to Law Student Well-Being?: Report on the ABA CoLAP Law Student Assistance Committee Law School Wellness Survey, 68 J. Legal Educ. 650 (Spring 2019)
Education
Yale Law School, J.D.
Yale University, BA
Mailing Address
Fordham University School of Law
Legal Writing Program
150 West 62nd Street, Room 7-175
New York, NY 10023