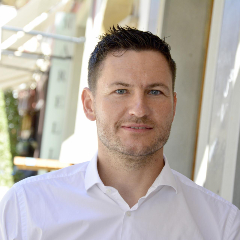 Adjunct Professor of Law
Office: 7-174
[email protected]
Jurij Toplak is a constitutional scholar and election law expert. His opinion appeared in The Guardian, Wall Street Journal, Financial Times and The Boston Globe. He gave guest lectures or researched at Harvard, Georgetown, Oxford, Central European University, Washington and Lee, and elsewhere.
Professor Toplak regularly gives election-related advice to governments and international organizations. He worked on election-related projects in the United States, Canada, Finland, France, Belgium, Uganda, Latvia, Serbia, Croatia, Montenegro, Romania, Monaco, Malta, and other countries. He led numerous successful impact litigation projects and wrote election appeals that nullified a referendum, reinstated disqualified candidates and mandated all polling stations to become accessible to wheelchairs. He represents clients at the European Court of Human Rights.
Professor Toplak was a Fulbright Scholar at UCLA Law School (2003-04). Since 2006 he has served on International Political Science Association Research Committee on Corruption and Political Finance and as a Co-Chair of the Freedom of Speech research group of the International Association of Constitutional Law.
Together with David Schultz, professor Toplak edited the Handbook of Election Law (Routledge 2022). His book Political Finance and Corruption in Eastern Europe (co-edited with Daniel Smilov) was extensively cited worldwide.
His articles were published in Electoral Studies, Temple Law Review, Lex Localis, Review of East and Central European Law, and other journals. Jure Toplak is a co-editor of Lex Localis (Web of Science, Scopus) and Journal of Comparative Politics (Scopus) and serves on the editorial board of three other journals.
Jurij Toplak is a University Professor of law at Alma Mater Europaea international university and the University of Maribor, Slovenia. He is a member of the European Academy of Sciences and Arts based in Salzburg, Austria.
Recent Book
Teaching
Comparative Constitutional Law and Challenges to Democracy, Fall 2019
Comparative Constitutional Law: Free Speech, Elections, Pandemics & More, Fall 2020
Comparative Election Law, Fall 2021
Comparative Election Law, Fall 2022
Mailing Address
Fordham University School of Law
Legal Writing Program
150 West 62nd Street, Room 7-175
New York, NY 10023