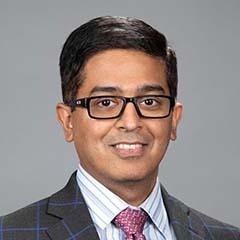 Adjunct Professor of Law
Dr. Kabir Duggal is an attorney in Arnold and Porter's New York office focusing on international investment arbitration, international commercial arbitration and public international law matters, serving both as counsel and arbitrator. The total value of the disputes he has been involved in exceeds 80 billion dollars. He has served as an arbitrator in over 40 disputes involving parties from all over the world and across several different industries.
Dr. Duggal is a Lecturer-in-Law at Columbia Law School, teaching "International Investment Law and Arbitration." He is also a Course Director and Faculty Member for the Columbia Law School-Chartered Institute of Arbitrators Comprehensive Course on International Arbitration and serves as an academic coordinator for the Chartered Institute of Arbitrators' Diploma Course. He also hosts a leading webinar series entitled "TagTime" which involves conversations with leading arbitrators from all over the world.
Dr. Duggal has published several articles and books and is regularly invited to speak at conferences globally. He is the Managing Editor for Columbia Law School's "The American Review of International Arbitration" and is an editor for investmentclaims.com hosted by Oxford University Press. He has co-authored a book entitled "Evidence in Investment Arbitration" published by Oxford University Press and "Principles of Evidence in Public International Law as applied by Investor-State Tribunals" by Brill Publishing. He has received the Burton "Law360 Distinguish Legal Writing Award" for his scholarly writings. His writings have been cited by arbitral tribunals and by the Supreme Court of Switzerland. He also serves as an Associate Editor for "ICSID Review" and also serves on its Peer Review Board and is also an Associate Editor for Brill-Nijhoff's "Perspectives in International Investment Law and Arbitration."
Dr. Duggal has received several accolades for his work in international arbitration and public international law. He has been ranked as the 4th Most Highly Regarded Future Leader in the Americas by Who's Who Legal (2019) and is the youngest practitioner to be listed in the Global Listing of Arbitrators by Who's Who Legal (2020). He received the "40 under 40 Rising Star Award" by Legal Era - Legal Media Group in 2018. He has been ranked as a "Rising Star" by Experts Guides (2019), has been recommended by Legal 500 US for "International Arbitration," is listed as a "Super Lawyer" in the New York metro region (2019 to 2021), and is listed as a "Rising Star" in Commercial Arbitration by Euromoney Legal Media Group (2019). In 2019, he was also awarded the "Inspiring Citizen Award" by the Institute of Self Reliance and the "Young Lawyer of the Year 2019" by the Indian National Bar Association (the largest voluntary professional association in India). Dr. Duggal has been ranked as among the "Top Ten Arbitrators" for the Asia Pacific Region by the Bali International Arbitration and Mediation Center (BIAMC) and received the "2019 Equality and Diversity Award in Dispute Resolution" by Prime Dispute in 2020. In 2021, Dr. Duggal was awarded the "2020 Dispute Resolution Practitioner of the Year for the Americas" and received the 2021 Award for Most Substantial Contributions to International Arbitration by the Association of Conflict Resolution for Greater New York (ACR-GNY). Dr. Duggal also maintains an active practice as both an arbitrator and mediator.
Dr. Duggal is a graduate of the University of Mumbai (University Medal), University of Oxford (DHL-Times of India Scholar) and NYU School of Law (Hauser Global Scholar) and Leiden Law School (2018 Academic Prize by CEPANI). He is currently pursuing an SJD Degree at Harvard Law School.
Mailing Address
Fordham University School of Law
Legal Writing Program
150 West 62nd Street, Room 7-175
New York, NY 10023