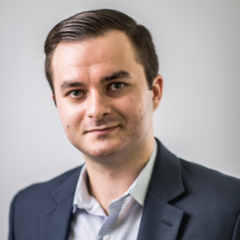 Adjunct Professor of Law
Stan is the Head of Americas Supervision at Citadel Securities where he covers the Equities, Futures, and ETF businesses, systematic trading, and trading technology.
Stan is also an Adjunct Professor at Fordham University School of Law teaching Trading, Risk Management & Market Structure Regulation. Stan previously was a Compliance Officer at Marshall Wace North America L.P. where he specialized in Quantitative Compliance and helped build the core US compliance program and scaled globally to EU and APAC.
Prior to that, he worked at Knight Capital Group focusing on algorithmic trading, market structure, and surveillance. He holds a J.D. in Law from Fordham University School of Law where he was an Associate Editor on the Journal of Corporate & Financial Law and additionally holds an M.Eng. in Engineering Management, M.S. in Pharmaceutical Manufacturing Engineering, and M.A. in Technology, Policy & Ethics from Stevens Institute of Technology.
Stan is Certified in Risk and Information Systems Control ("CRISC"), a Certified Data Privacy Solutions Engineer ("CDPSE"), and is also a Certified Fraud Examiner ("CFE"). Stan lectures and publishes on industry topics including FinTech, RegTech, market structure, alternative data, artificial intelligence, regulatory and enforcement matters, surveillance, cybersecurity, data privacy, and risk management.
Mailing Address
Fordham University School of Law
Legal Writing Program
150 West 62nd Street, Room 7-175
New York, NY 10023