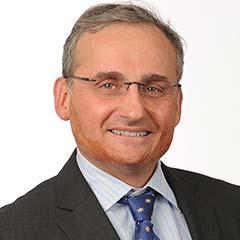 Professor of Law
Ian Weinstein was the fourth full-time clinical legal educator to join the Fordham faculty, in 1991, and has played a key role in the growth of the clinical legal education program since then. In 2006, he was appointed director of clinical legal education and four years later was named the School's first associate dean for clinical and experiential programs. That same year he began his service to the Clinical Legal Education Association. In 2007, Law Clinic TV, a video blog he published, received the NALP Award of Distinction for Technology. He is the founding director of the Brendan Moore Trial Advocacy Center. Prior to joining Fordham, he was the Stiller/Prettyman Fellow at Georgetown Law School and then associate attorney with the Federal Defenders of the Legal Aid Society for the Southern District of New York.

Education

Reed College (Phi Beta Kappa), BA, 1981
New York University School of Law (cum laude, Order of the Coif), JD, 1986
Georgetown University Law Center, LLM, 1990

Representative Publications

Harry Subin, Chester Mirsky & Ian Weinstein, FEDERAL CRIMINAL PRACTICE: PROSECUTION AND DEFENSE (West, 1992).

Ian Weinstein, Lawyering in the State of Nature: Instinct and Automaticity in Legal Problem Solving, 23 Vermont Law Review 1 (1998).

Ian Weinstein, Substantial Assistance and Sentence Severity: Is There a Correlation?, 11 Federal Sentencing Reporter 83 (1998).

Ian Weinstein, Regulating the Market for Snitches, 47 Buffalo Law Review 563 (1999).

Ian Weinstein, Judicial Discretion and the Federal Sentencing Guidelines, 79 Boston University Law Review 493 (1999).

Ian Weinstein, Reporter, Conference: Report of the Working Group on Representation Within Law School Settings, 67 Fordham L. Rev. 1861 (1999).

Ian Weinstein, Testing Multiple Intelligences: Comparing Evaluation by Simulation and Written Exam, 8 Clinical L. Rev. 247 (2001).

Ian Weinstein, Fifteen Years After the Federal Sentencing Revolution: How Mandatory Minimums Have Undermined Effective and Just Narcotics Sentencing, 40 Am. Crim. L. Rev. 87 (2003).

Ian Weinstein, Don't Believe Everything You Think: Cognitive Bias in Legal Decision Making, 9 Clinical L. Rev. 783 (2003).

Ian Weinstein, The Adjudication of Minor Offenses in New York City, 31 Fordham Urb. L. J. 1157 (2004).

Ian Weinstein & Nathaniel Marmur, Federal Sentencing During the Interregnum: Defense Practice as the Blakely Dust Settles 17 Fed. Sent. R. 51 (2004).

Ian Weinstein, The Revenge of Mullaney v. Wilbur: U.S. v. Booker and The Reassertion of Judicial Limits on Legislative Power to Define Crimes, 84 Or. L. Rev. 393 (2005).

Ian Weinstein, The Historical Roots of Regional Sentencing Variation, 11 Roger Williams U. L. Rev. 495 (2006).

Ian Weinstein, Teaching Reflective Lawyering in a Small Case Litigation Clinic: A Love Letter to my Clinic, 13 Clinical Law Review 573 (2006).