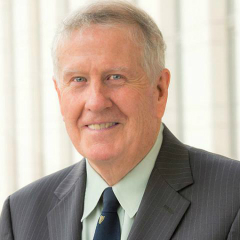 Norris Professor of Law
212-636-6873
[email protected]
Office: 7-160
Areas of Expertise: Conflict Resolution, Constitutional Law, Employment and Labor Law, Legal Ethics and Professional Responsibility
Full Professor, Fordham, 1982-present
Former Dean, 1982-2002
Adjunct Professor, Fordham, 1976-1982
Chair, New York State Public Integrity Commission;
Chair, NYS Ethics Commission, 2007
Chair, NYS Commission on Judicial Elections, 2003
Special Master, Family Homeless Litigation in NYC, 2003
Chair, Chief Judge's Commission to Promote Public Confidence in Judicial Elections, 2002-2006
Chair, Committee to Review Audiovisual Coverage of Court Proceedings, 1996-1997
President, Association of the Bar of the City of New York, 1992-1994
Practicing attorney, Skadden, Arps, Slate, Meagher and Flom, 1961-1982
Chairman, N.Y.S. Commission on Government Integrity, 1987-1990
Chair, Fund for Modern Courts, 1995-1999
Chair, Board of Directors of American Arbitration Association, 1997-2000
President, Citizens Union Foundation, 1987-1998
Court-appointed Special Master and Arbitrator and Mediator of numerous disputes and controversies
Recipient, New York Law Journal Lifetime Achievement Award (one of 16 in 2013)
Hall of Honor, Fordham University
Co-Chair, Chief Judge Jonathan Lippman's attorney emeritus program
Member, Chief Judge Lippman's task force on pro bono rule for all bar applicants

Education

Fordham, BS, 1958, LL.B., 1961
Fordham, LLD (Honorary), 2002

Selected Publications

"Tribute Charles M. Whelan: A Life in the Service of Others," 75 Fordham L. Rev. 2835 (2007)
"Why We Seek Reform. Symposium on Rethinking Judicial Selection: A Critical Appraisal of Appointive Selection for State Court Judges," 34 Fordham Urb. L.J. 3 (2007)
"From Failing Hands: The Story of Presidential Succession" (1965)
"The Twenty Fifth Amendment" (nominated for a Pulitzer Prize, 1976 & 1992 ed.)
"The Vice Presidents of the United States," (Co-author with Emalie P. Feerick, 1967)
"NLRB Representation Elections-Law, Practice & Procedure," (Co-authored with Henry P. Baer and Jonathan P. Arfa, 1979-80)
Numerous Law Review, Bar Association, and Legal Press Articles on subjects of the Constitution, Ethics, Conflict Resolution, and the Legal Profession.