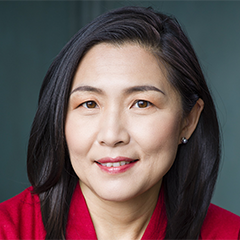 Professor of Law
Julie Chi-hye Suk is an interdisciplinary and comparative legal scholar, researching equality at the intersection of law, history, sociology, and politics in the United States and globally. She has authored dozens of articles and book chapters about comparative constitutional law; the procedural implementation of equality norms in the United States and Europe; gender quotas; and women, work, and family. Her 2020 book, We the Women: The Unstoppable Mothers of the Equal Rights Amendment, was the first book to chronicle and assess the twenty-first-century revival of the Equal Rights Amendment, culminating in Virginia's ratification in 2020. Her next book, After Misogyny: How the Law Fails Women and What to Do about It, on women's struggles towards inclusive constitutional democracy around the world, will be published in spring 2023.

Professor Suk joined the Fordham faculty after three years at the Graduate Center of the City University of New York, where she served as dean for Master's Programs and professor of sociology, political science, and liberal studies. Before that, Suk was a Professor of Law for 13 years at Cardozo Law School in New York. She has also taught as a visiting professor at the law schools at Yale, Harvard, Columbia, University of Chicago, and UCLA. She has also been a fellow at the European University Institute in Florence and LUISS-Guido Carli in Rome.

Suk received her doctorate in politics from Oxford University (where she held a Marshall Scholarship) and her J.D. from Yale Law School (where she studied on a Paul & Daisy Soros Fellowship for New Americans). Following law school, she clerked for the Honorable Harry T. Edwards of the U.S. Court of Appeals for the D.C. Circuit.

Selected publications:

A World Without Roe: The Constitutional Future of Unwanted Pregnancy, William & Mary L. Rev. (forthcoming 2023).

Justice Ginsburg's Cautious Legacy for the Equal Rights Amendment, 110 Georgetown L. J. 1391 (2022).

A Dangerous Imbalance: Pauli Murray's Equal Rights Amendment and the Path to Equal Power, 107 Virginia Law Review Online 3 (2021).

Liberal Constitutionalism and Economic Inequality, 85 University of Chicago Law Review 369 (with Rosalind Dixon) (2018).

An Equal Rights Amendment for the Twenty-First Century: Bringing Global Constitutionalism Home, 28 Yale Journal of Law & Feminism 381 (2017) (quoted in the U.S. House of Representatives, Committee on the Judiciary, Report 116-378, Removing the Deadline for the Ratification of the Equal Rights Amendment, January 16, 2020).

Quotas and Consequences: A Transnational Re-evaluation, in Philosophical Foundations of Discrimination Law (Deborah Hellman & Sophia Moreau eds.), Oxford University Press (2014).

The Moral and Legal Consequences of Wife Selling in The Mayor of Casterbridge, in Subversion and Sympathy: Gender, Law, and the British Novel (Alison LaCroix & Martha Nussbaum eds.) Oxford University Press (2013).