Senior Week at Lincoln Center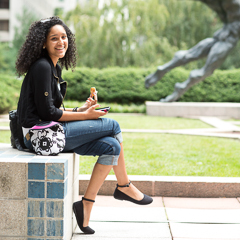 The Senior Week Committee and the Office for Student Involvement at the Lincoln Center campus are proud to sponsor a variety of events for Fordham College at Lincoln Center and Gabelli School of Business at Lincoln Center seniors.
Senior Week 2023 Schedule is posted! Please visit our events page for more details and to purchase tickets. Tickets will go on sale at NOON on Tuesday, March 21, and will end on Monday, May 1 (or until events sell out). For more information, please contact [email protected].
Regularly visit the University Commencement website for the latest information on Commencement and the Fordham College at Lincoln Center and Gabelli School of Business Diploma Ceremonies. Most questions about the Diploma Ceremony can be answered by visiting the University Commencement webpage. If you have further questions about the Diploma Ceremony, please call Academic Advising at 212-636-6350.

Senior Week 2023 tickets will be available starting Tuesday, March 21.

Before purchasing tickets please keep the following in mind:

Tickets will be sold only to Fordham College at Lincoln Center or Gabelli School of Business at Lincoln Center seniors who graduated in February 2023 or will be graduating in May or August 2023.
Senior Week tickets are being sold via the University Tickets website. Students must create an account and login with your Fordham username and password. Then you may purchase tickets to the events.
Please also make note there will be additional service fees when purchasing your tickets.
All Senior Week events require tickets. You must request tickets to free events.
Prior to purchasing tickets, make sure to review the Event Guidelines and Ticket Sales information for all the policies regarding events and ticket sales.
Tickets will not be sold at the door for any Senior Week events. Please plan ahead and buy your tickets early to guarantee admission.
Tickets are non-refundable and non-transferable.

Please review the Events Page for information on dates, times, and costs for all events.

Ticket Information

Tickets with an individual QR code to each event will be emailed to you in your confirmation. Please present this code upon check-in to each event.

Tickets are non-transferrable and non-refundable.
All events will take place rain or shine.
Bring your Fordham ID, valid proof of age, and an admission ticket to all events.
Bringing alcohol to an event is strictly prohibited. All persons who arrive to an event intoxicated will be refused admission.
Due to increased security at our venues, large bags are not permitted at any event or on any trip.
Remember: Drinking and driving do not mix! If you choose to drink, please drink responsibly, and always assign a designated driver.

Alcohol

As with every University-sponsored event, no person under the age of 21 may possess, consume, or be in the presence of alcohol, except in officially designated spaces. Although alcohol will be available for purchase for students over the age of 21 during select Senior Week events, students are prohibited from bringing alcohol—or other outside beverages—to any event. If a student arrives at an event intoxicated, he or she will not be granted admission. Fordham prohibits inappropriate behavior that is a direct result of alcohol consumption. Any student who is observed to be intoxicated may be found in violation of the University's alcohol policy. Conduct resulting from the consumption of alcohol that is in any way illegal or in violation of any other policy is also prohibited.

Jack Bellamy, Chair, FCLC '23

Marley Poku-Kankam, Chair, FCLC '23

John Spade, Chair, FCLC '23

Kiya Brown, FCLC '23

Emmeline Brzeczek, FCLC '23

Emily Ellis, FCLC '23

Sophia Henderson, FCLC '23

Hannah Howell, FCLC '23

Meilin Morefield, GSB '24

Kenneth Tang, GSB '24

Emma Regovich, FCLC '24