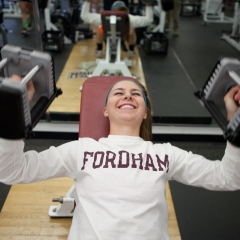 The fitness classes offered vary in format from: cardiovascular conditioning, muscular endurance, and strength training, to flexibility and specialty class formats.
Every class will have mixed skill levels from: beginner and intermediate, to advanced. The instructor will offer modifications and challenges to satisfy everyone's needs. You'll get a tough workout at YOUR pace!
It is recommended to sample different classes, as you will notice that each instructor puts a different spin on their class design. With a mix of instructors from diverse backgrounds in the fitness industry, you'll find a favorite and become hooked!
Cardiovascular, Weight Training, Mind, and Body Classes
Bar//Car//S: a class that combines some of the popular formats in group fitness: "Barre", "Cardio.", "Strength and Stretching"!
Boot Camp: A cardio and strength class using highly varied workout techniques, including intervals, body weight training, and running. No two classes will be the same!
Burn to Learn: business elective course w. Prof. Haber: take this business course while spinning at your own pace. Fitness integrated learning held on spin bikes. Develop consulting and management skills.
Complete Conditioning: Complete your total-body, weight-conditioning workout in one hour. This class includes a warm up followed by muscular strength, endurance, and flexibility movements for the entire body.
Circuit Training: move from one exercise to the next in this challenging circuit and then repeat a few more times. Each class will be set up differently varying resistance training, rest periods and high-intensity aerobic exercises throughout a circuit.
Core Training: this class strengthens your "core muscles" which include: your back, abdominals, hip and gluteus muscles.
Core and Stretch: This class starts with movements to strengthen your back/abdominals. Then finish with a total body STRETCH!
Hip Hop Funk: This dance class is a perfect blend of hip hop, old school, house, African, and street jazz dance that develops into one fun energetic routine. Come and get your dance on!
Interval Training: Intervals of high intensity cardiovascular movements mixed with low impact weight training, incorporating core and rest periods.
Krav Maga Centers of America: delivers a program that was developed in Israel by the Israeli Defense Forces (IDF) to give its soldiers an advantage in hand-to-hand fighting over their opponents.
"Self Defense": The program teaches you how to protect yourself based on real-world situations. It is a fun and engaging class improving your fitness level while learning how to defend yourself!
Program Focus: Urban Self Defense Methods; Simple and Effective Hand-To-Hand Combat; Dynamic and Hybrid Fitness Training and Quality Of Life and Body Development.
Lower Body Training: a 30+ minute weight training class that will focus on: legs, glutes, and core muscles!
POP-UP Classes: Look out for these extra classes to POP-UP during the semester! Signs will be posted in the fitness center.
Pilates and Boxing Strength: combining the benefits of Pilates training with challenging strength and boxing techniques! Come check it out!
Pilates Mat: a core-strengthening class based on the principals of Joseph Pilates. You will learn to use the deep core muscles to initiate and execute various movements to build strength, stability and flexibility.
Spinning: a low-impact; calorie-burning, cardiovascular workout led by a certified instructor on a spin bike. They will have you climbing, sprinting, running, and jumping on the bike to energizing music. Their various options will match your fitness level, new or experienced. Come get stronger and fitter with us. Sign up required.
Three-2-One: a complete total body workout completed in segments: three minutes of cardiovascular work, two minutes of strength and one minute of core muscle work...REPEAT!
The Fordham Condition: The class begins with a cardiovascular warm-up. Next, the class focus is to increase the total body's muscular endurance, strength, and flexibility using free weights, bars, or bands. The class ends with core and stretch work. Think Boot Camp meets Pilates!
Upper Body Conditioning: a 30+ minute weight training class that will focus on: arms, back, chest and core muscles!
Yoga w. Bhadra: This class is a mixed level for new and/or experienced students. Most classes will include: Surya Namaskar (Salutations to the Sun), Standing poses, back bends, forward bends, twists, Savasana (relaxation). There will be focuses of alignment, stability in posture, sequences. Come and explore your form.
Yoga w. Sylvia: Classic yoga postures used in Astanga and Iyengar styles; practice to build strength and flexibility with awareness of breath, correct alignment, and precise actions of the body.
ZUMBA: DIitch the workout, join the party. Combining fitness moves with easy-to-follow, fun choreography set to the hottest Latin and world music. Zumba is an exhilarating, effective, dance fitness workout!
Send me your Feedback: sbickford@fordham.edu