The Alcohol and Other Drug Education (AODE) office employs the following comprehensive multi-tiered approach to substance abuse prevention: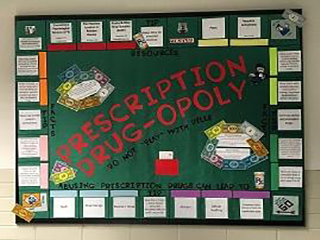 Education
The educational initiatives implemented by AODE intend to change student knowledge, attitudes, and behavioral intentions related to alcohol and other drug use. These initiatives include:
Offering substance abuse prevention training to students, staff, administrators and faculty;
Training and advising the student run health and wellness organization, BeWellLC;
Implementing population targeted awareness and norms clarification awareness campaigns;
Facilitating a motivational enhancement skill building program for all first year residents and commuters;
Serving as a resource to the university on various substance abuse and addiction related issues.
Environmental Management
AODE serves as a systemic change agent by developing partnerships with stakeholders on campus and within the community to foster an environment that promotes health, personal development and learning. These initiatives include:
Assisting with university-wide alternative late night and weekend social programming efforts;
Serving as active participants in the New York City AOD College and University Consortium;
Working with the Deans of Students in order to implement effective environmental management strategies on campus and in the surrounding community with parents and other stakeholders.
Early Intervention
Individual targeted interventions include strategies to identify students who are at-risk of developing an alcohol or substance abuse disorder. Efforts to identify and provide services to these students include:
Offering Brief Alcohol Screening Intervention for College Students (BASICS);
Coordinating alcohol, marijuana and other health related screening day campus events;
Providing referral information regarding off-campus substance abuse treatment and detoxification facilities as well as local Twelve Step groups.
Assessment
Evaluation of current initiatives and the assessment of alcohol and other drug related trends among the student population are fundamental tasks of AODE. Assessment strategies include:
Coordinating university-wide Core Alcohol and Drug Survey administration;
Evaluating alcohol and other drug related programs, policies and procedures;
Disseminating relevant data to appropriate departments, divisions and organizations.