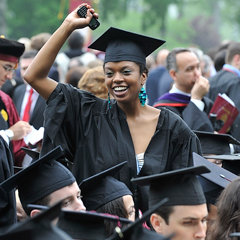 The Maroon is Fordham University's distinguished yearbook for the Rose Hill campus. The student staff of The Maroon works year round to document life at Fordham, including Rose Hill Athletics, clubs and organizations and events.
The Maroon Yearbook is published each Spring and a copy is mailed to the members of the Senior Class who graduated within the past year.
Senior Portraits
*For all seniors that didn't sit for their senior portrait due to class cancellation, please email Island Photography's customer service team - [email protected], to follow up regarding taking a photo or uploading a photo to their database.*
In preparation for the Yearbook, all seniors should sign-up for a Senior Portrait which includes letting us know the proper spelling of your name as it should be printed in the Maroon Yearbook. Additionally, you will be asked to specify your graduating major(s) and/or minor(s).
Please dress appropriately for Senior Portraits. Men should wear a jacket and tie. Women may wear a blouse or other nice top. Photos will also be taken with the senior wearing a graduation robe and hood and/or holding a graduation cap. These items (graduation robe, hood and cap) will be provided.