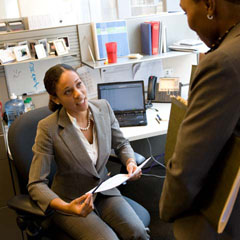 The Accounts Payable Department is a division of the Office Of University Procurement and is responsible for the timely distribution of payments to vendors for services rendered and/or goods received.
The Accounts Payable Office is located on the fifth floor of Faculty Memorial Hall at the Rose Hill Campus. It is the responsibility of the Accounts Payable staff to perform a timely review of all University disbursement requests to ensure compliance with University policies and external regulatory requirements.
General Instructions
To aid in the timely processing of your request, please review your requisition for the following information:
An authorized signature is on the check request form. Requests that do not have the proper signature will be returned to the department. Individuals may not sign for personal reimbursement, if such reimbursements exceed $100.
There is adequate supporting documentation substantiating the expenditure. Check requests must include, as applicable, invoices, letters of agreement or original receipts (no copies or facsimiles and/or statements) with proper explanation of the business purpose of the expenditure, W9 and check list for services that exceed $500 must be approved by the Director of Human Resources, etc.
The Banner account to be charged should reflect a proper recording of the expense.
Ensure sufficient funds are available in the budget appropriation against which expenditures are being charged. Transactions which cannot be processed due to insufficient budget funds will be referred to the Budget Office, which will result in delay of payment.
Requests for holding checks, as opposed to direct mailing to the vendor, will be reviewed on an exception basis only.
For more information pertaining to the proper use of a Check Request Form, please request our Policies and Procedure Manual (call extension 4957).