Science and Technology Entry Program (STEP)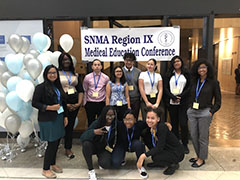 It's never too early to start thinking about college and planning your career!
The Fordham Science and Technology Entry Program (STEP) is an academic enrichment program designed to prepare underrepresented minority and economically disadvantaged junior high and high school students (grades 7-12) for college and careers in STEM fields (science, technology, engineering, and math) fields, health careers, and licensed professions, like accounting, law, psychology, social work among other licensed fields.
The STEP program takes place at Fordham's Rose Hill campus in the Bronx and at Fordham's Lincoln Center campus in Manhattan. Activities also take place at local school and partner sites.
---
STEP Scholar Opportunities
Take classes at Fordham University during our summer program and during the academic year program.
Enjoy access to all that Fordham's campuses have to offer - academic and recreational facilities.
Receive instruction from Fordham faculty, graduate students, as well as teachers from area high schools.
Make lasting friendships with like-minded peers.
Experience a smooth transition to the Collegiate Science and Technology Entry Program (CSTEP) at Fordham and other New York state colleges with CSTEP programs.
Want to Know More About CSTEP?