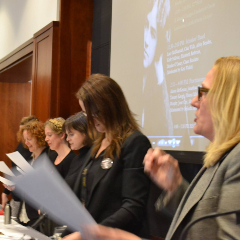 Since its founding in 1841, Fordham has been staffed by many faculty who were themselves Irish-born or of Irish descent and who, over generations, counted a disproportionately large number of Irish-Americans among their students. In late 1927 the Belfast-born poet and Irish republican Joseph Campbell, founder and director of the School of Irish Studies based in Lower Manhattan, joined with Rev. Miles J. O'Mailia SJ, then Dean of the Graduate School at Fordham, to incorporate Campbell's School into Fordham University--becoming the first Irish Studies program in the United States. In Campbell's words: "Other American universities have chairs of Celtology, but this will have the distinction of being the first school of its kind devoted to study in the Irish arts as a whole."
Nearly seventy years later Irish Studies was reborn at Fordham University. In 1998, Dr. John McCarthy, now Professor Emeritus of History, established the modern program with the creation of the Institute for Irish Studies. The Institute's objectives are two-fold: to offer Fordham undergraduates a holistic understanding of Ireland through a minor in Irish Studies; and to sponsor academic lectures and special events each year.
Today the Institute of Irish Studies promotes research and study of all aspects of Irish culture: from the economic boom and bust of the Celtic Tiger and subsequent cultural renaissance, to conflict resolution in Northern Ireland. As Ireland grows increasingly important in the European community and world, Fordham University stands ready to engage with historic and contemporary issues, both academic and societal.