Irish Studies Study Abroad Experiences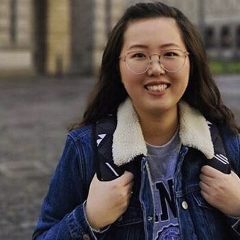 Fiona Chen
Studied at Trinity College, Dublin
I was a Medieval Studies major when I was at Fordham, and my primary research interests were around the material culture and the art of medieval Christianity. I applied for the program at Trinity College Dublin (TCD), because it was academically rigorous and had a wealth of resources on what I was studying. During the semester before I went to Ireland, I was taking a course on medieval illuminated manuscripts, and one of my papers was on insular manuscripts including the Book of Kells. It was an almost surreal experience visiting the Book of Kells exhibition at TCD and it helped me better understand the materials I had learned prior to arriving in Ireland. Through the arrangement provided by the School of Religion, the Loyola Institute, and the TCD Long Room Archive, I also had the opportunity to examine several illuminated manuscripts in TCD's collection in person.
Ireland itself is also full of history, so it is ideal for history lovers like me. The experiences of visiting several monastic ruins around the country helped me become more aware of the past and the culture as I was constantly surrounded by the physical remains and reminders of them. I remember seeing the carved symbols and inscriptions at the sites with critical eyes and being able to bring my questions to my professors there. Now that I am in graduate school (Yale Divinity School) and am looking back at my time studying at TCD, I realize that the experience was my first taste of what graduate school would be like, because it challenged me to become a more self-disciplined and independent researcher. While the professors at TCD are generous with their time after class and happy to answer questions, they also expect that the students can carry out projects on their own without being checked upon. My master's thesis topic (and potential Ph.D. dissertation topic) is actually developed from a final research paper I wrote for one of my classes at TCD, and I am forever grateful for the foundation and skills I gained while I was at TCD.
Fiona's tips to other students: I would advise anyone who will be studying abroad at TCD or in Ireland to not be afraid of reaching out to professors. Unlike in the US, office hours are not a typical thing, meaning that professors typically do not advertise them on their syllabi or in class, but they are always happy to discuss progress and help with questions. In most cases, assessments are not continuous, so it requires the students to be very self-disciplined and do a lot of independent reading throughout the semester. I would suggest the students really sit down and map out their schedules and timelines for completing the final papers as soon as they have the topics. The libraries on campus are wonderful places to be, and they are almost always full. As someone who commuted every day, I would typically find a spot in the library first thing when I arrived on campus and camp-out/study at my spot between classes. This is what lots of other TCD students do as well. I would also recommend befriending the mature students at TCD. (The mature enrollment is a bit like the continuous education program in the US, I believe.) They are very kind and because they are a lot older they have a wealth of wisdom and insights regarding life in Ireland and life in general. Since their children are grown and/or have moved away they love interacting with young people. I was lucky enough to become very close with two mature students through a class and it was also pleasant studying and having lunch with them - it was a very special kind of companionship and a unique experience I had not expected to have prior to arriving at TCD.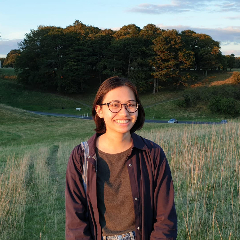 Ashley Conde
Studied at Trinity College, Dublin
Studying in Ireland was a wonderful experience that enriched my academic endeavors and broadened my perspective. During Fall 2019, I had the privilege of studying at Trinity College in Dublin. Trinity is a beautiful, historic college which offers diverse courses. My time at Trinity exposed me to a different academic culture, where modes of communication and student- professor relationships differed from those at Fordham. Many Trinity classes— for example, "Hamlet in Theory" and "Moses and the Exodus in the Arts"— covered more specific topics than Fordham courses. I enjoyed the rigor of Trinity classes as well as their small class sizes. None of my classes dealt explicitly with Irish literature or history, but I learned about the Irish academic system as well as lesser-known Irish authors (such as Flann O'Brien and Edna O'Brien). I left Trinity with a deeper understanding and appreciation of Irish culture. My digital humanities class at Trinity also piqued my interest in studying intellectual property at law school. Ireland is a beautiful country and I enjoyed my travels to Cork and Galway. I especially enjoyed a seaside cliff hike in Bray (Wicklow County).
Ashley's tips to other students: I recommend that Fordham students planning to study in Ireland make the most of their time by researching transportation and student deals prior to arriving in Ireland. I found that buying a student Leap Card was an affordable way to travel around Dublin. Because living alone in a foreign country can be difficult and lonely at times, I recommend that students participate in clubs and events at their school. Trinity has a large population of visiting students, and participating in clubs helps students from Ireland and abroad to connect over shared interests. One club activity I enjoyed was visiting Dáil Éireann (the lower house of the Irish legislature), where I learned more about Irish politics, met students from across Dublin, and met a former Irish Prime Minister. Students in Dublin should also visit cafes and bookshops, including Hodges Figgis and Books Upstairs.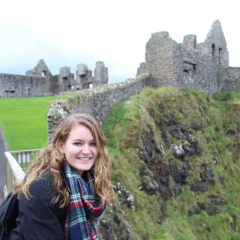 Neve Devine
Studied at Trinity College, Dublin
My study abroad experience in Dublin, Ireland, was formative to my academic and personal growth. While at Trinity College Dublin, I had the opportunity to take enriching courses in Irish culture as well as courses for my major. Dublin served as a wonderful home base between weekends of travelling around Europe. I could not recommend studying in Dublin more highly.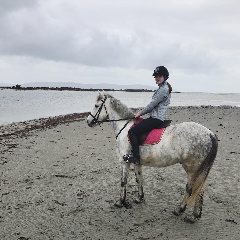 Paige Hoffman
Studied at the National University of Ireland, Galway
Studying in Galway didn't just change my experience at Fordham, it changed the entire course of my life, since I made the decision to move to Ireland after studying there, returning in September of 2021. I would have never made the decision to move to Ireland full time had I not experienced life there. I have a newfound desire to live abroad, which is amazing for me because I actually used to be quite the homebody! I returned from Galway much more independent than when I had left, with a desire to live far away from home and interact with people very different from myself. At Fordham, most of my friends had fairly similar backgrounds to my own, but this was not the case at NUIG, and I discovered I really love the diverse experience of living abroad. I spent the rest of my time at Fordham planning my return to Galway and learning as much as I could about Ireland in the meantime. My eyes were opened to the possibility that I could choose a different path than what I had planned for myself when I was young, and ultimately, I did.
Galway is the place to go if you want to experience authentic Irish culture, language and music. It is the "cultural capital" of Ireland. It is full of students and young people and there is no shortage of things to do! It is my favorite place in the world, and has a more intimate, ancient feel than the other major cities in Ireland.
Paige's tips to other students: Make an effort to connect with Irish people and other international students; don't limit yourself to only befriending Fordham students/American students. It is amazing to connect with people from different backgrounds, plus you're going to want to have friends to stay with when you come back and visit! It is also very important to educate yourself about Irish history and culture, and be respectful of cultural traditions and differences. A lot of stereotypes and tropes about Ireland that we have here are not accurate and can sometimes be offensive (hint, they don't say "top of the morning" there!)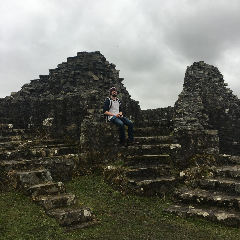 Nicolas Smith
Studied at the National University of Ireland, Galway
I studied History and Archaeology at Fordham, and my time in Galway and Roscommon really shaped my passion for the field, so much so that I wrote my undergrad thesis on the history and evolution of Crannogs and Anglo Norman Castles from the 12th to 15th century! While at NUIG I worked for the Radio as a radio host, was part of a show called "The Token Yank" and overall had an amazing experience.
My experience at NUIG really transferred a major I was interested in into a passion. I was able to explore castle ruins and historical sights, as well as take uniquely fascinating courses. From Medieval Welsh to the History of Celtic Mythology, NUIG offered me an entire course load that allowed me to study topics that were truly unique to the area, teaching me a culture I would have never been exposed to in America. Weekend trips with the Archaeology Club brought me throughout the country to see castles and historical landmarks, such as Trim Castle and the hill of Tara. When I returned to Fordham, I set out using all the research and resources I gathered from my year abroad to write a thesis.
I would recommend studying abroad in Ireland because, in my opinion, it is the best of both worlds. Ireland can be extremely welcoming and home-like for those intimidated to travel to a new country with a new language while also showing you a world so unlike that of the United States. One can spend a day with friends in a pub by the sea in Galway, while the next exploring the mountains of Tiernakill! Ireland can offer a friendly and stress-free place when you want it, while also giving an exciting adventure when you don't! What's more, access to the UK from Dublin is extremely easy, and flights to cities like Warsaw cost roughly 20 Euros. Weekend trips are achievable for those who want it.
When returning from Ireland, I felt myself both more energized by my passion, as well as more comfortable talking to strangers. I learned how to simply strike up a conversation with someone without the social anxiety. Simply having craic to talk about and just being friendly was a skill I didn't know I had to learn, but my time in Galway gave me a lot of training!
Nicolas's tips to other students: Be friendly and don't be afraid to make friends outside of your group! It is always amazing to have friends from the United States with you, but the friends I still communicate with are the ones from Spain, France, and Ireland. They will really show you a new and unique experience and can help you grow as a person! Also, don't be afraid to travel the country alone! The bus system is great, and almost every town you see will have its own charm. Ireland really is a place where one can feel at home.