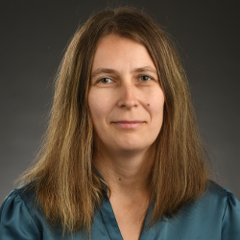 Professor, Political Science
Email: [email protected]
Phone: 718-817-3961
Office: Faber Hall 677
PhD, Political Science - University of Toronto, Canada, 2007
MA, Political Science - Kansas State University, USA, 2002
BA, English - Horlivka Institute of Foreign Languages, Ukraine, 1999

Comparative Democratization
Social Movements
Public Opinion
Youth, with a regional focus on Eastern Europe and the former Soviet Union.

Recent Publications

"'I Am Tired of Being Afraid': Emotions and Protest Participation in Belarus." International Sociology 37, no. 1 (2022): 78–96

"Protest Participation and Parenthood: Evidence from Ukraine." International Journal of Public Opinion Research 33, no. 2 (2021): 444–459

"Mapping Support for a Revolution: Evidence from Ukraine." International Journal of Sociology 51, no. 3 (2021): 218–248

"The Significance of Human Dignity for Social Movements: Mass Mobilization in Ukraine." East European Politics 36, no. 3 (2020): 445–462

"Invisible Revolutionaries: Women's Participation in the Revolution of Dignity." Comparative Politics 52, no. 3 (2020): 451–472

"Framing and Counterframing a Peace March in Russia: The Use of Twitter during a Hybrid War." Social Movement Studies 18, no. 5 (2019): 602–621

"Why Women Protest: Insights from Ukraine's EuroMaidan." Slavic Review 77, no. 3 (2018): 726–751, co-authored with Maria DeCasper

"Youth Media Consumption and Perceptions of Electoral Integrity in Kazakhstan and Kyrgyzstan." Demokratizatsiya: Journal of Post-Soviet Democratization 23, no. 3 (2015): 257–277

"Youth Movements and Elections in Belarus." Europe-Asia Studies 67, no. 3 (2015): 468–492

"Marching against the Dictator: Chernobyl Path in Belarus." Social Movement Studies 14, no. 2 (2015): 230–236

"Trust in Government and Goal Pursuit in a Transition Society." Comparative Sociology 13, no. 5 (2014): 618–638

"Origins of the Movement's Strategy: The Case of the Serbian Youth Movement Otpor." International Political Science Review 34, no. 2 (2013): 140–158

HPRH 2201 - Civil Resistance in Comparative Perspective (Honors Program)
POSC 1100 - Introduction to Politics
POSC 2812 - Political Socialization
POSC 3622 - Politics of the European Union
POSC 3631 - China and Russia in Comparative Perspective
POSC 4025 - Youth and Politics (Interdisciplinary Capstone Course)
POSC 4037 - Social Movements and Revolutions
POSC 5500 - Comparative Political Analysis (Graduate-Level Course/IPED Program)

Olena Nikolayenko is Professor and Chair of the Department of Political Science at Fordham University. She is also an Associate at the Davis Center for Russian and Eurasian Studies, Harvard University. She received her Ph.D. in political science from the University of Toronto and held visiting appointments at the Princeton Institute for International and Regional Studies at Princeton University, the Center on Democracy, Development, and the Rule of Law at Stanford University, the Institute for European, Russian and Eurasian Studies at George Washington University, the Project House Europe at the Ludwig Maximilian University of Munich (Germany), the Center for Belarus and Regional Studies at the European Humanities University (Lithuania), the Institute of Political Studies, Polish Academy of Sciences (Poland), the Institute for Russian and Eurasian Studies at Uppsala University (Sweden), and the Department of Sociology at the National University of Kyiv-Mohyla Academy (Ukraine). Her research interests include comparative democratization, contentious politics, civil resistance, and political behavior, with a regional focus on Eastern Europe. Her recent book, Youth Movements and Elections in Eastern Europe (Cambridge University Press, 2017), examined interactions between nonviolent youth movements and incumbent governments during national elections in five post-communist states: Azerbaijan, Belarus, Georgia, Serbia, and Ukraine. Her current book project examines women's participation in the Revolution of Dignity in Ukraine. Her research was supported by the American Political Science Association, the Canadian Institute of Ukrainian Studies, the International Center on Nonviolent Conflict, the Open Society Institute, the Social Sciences and Humanities Research Council of Canada, and the U.S. State Department (Title VIII grant).