Political Science Undergraduate Studies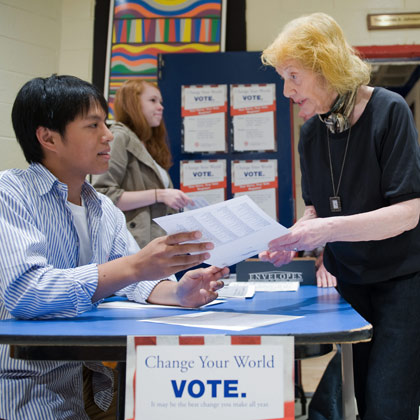 Learning Goals
Given Fordham's role as an urban, Jesuit liberal arts university, the Department of Political Science endeavors to fulfill the University's goals in several key ways:
it prepares students to think critically and analytically, with an awareness for alternative viewpoints and understanding of current domestic and international issues;
it is committed to the development of students' written and verbal communication skills;
it invites students to reflect upon the relationship between democratic values and public life; and
it is committed to providing students with an education that is marked by cura personalis and with the goal of educating people for others.
Political Science is organized into four sub-fields:
American Politics
Comparative Politics
International Politics
Political Theory
Using a combination of lecture and seminar formats, we offer a wide array of classes in each subfield. Many of our classes fulfill Fordham's core curriculum requirements, and are capped at smaller numbers to facilitate individualized instruction and learning.
In addition to taking a core introductory course (POSC 1100 – Introduction to Politics), you will complete classes in a range of subfields. You will also complete elective courses, allowing you to tailor the major or minor to your individual interests.
Have Questions About Majoring in Political Science?