Careers in Political Science
What is life like after graduation for a Fordham Political Science Major?
Employment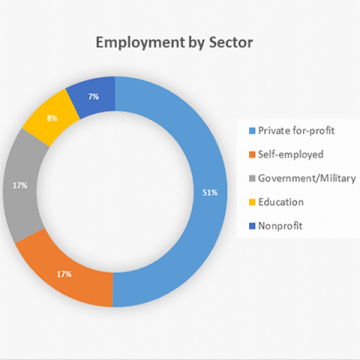 Political Science majors traditionally enjoy careers in law, government, diplomacy, campaign management, media, public advocacy, and public policy. For those who enter the private sector, the rewards are many as well.*
Financial Footing
Your Political Science degree will also put you on solid financial footing. Majors earn median annual salaries ($57,800) that are 11% higher than the median salaries of all college graduates.*
| Top 5 Occupations in Political Science* (Full-Time Employees, BA Degree only) | Average Annual Salary |
| --- | --- |
| Managers, Executives, and Administrators | $102,300 |
| Insurance, Securities, Real Estate, and Business Services | $87,700 |
| Sales Occupations, Including Retail | $68,000 |
| Other Management-Related Occupations | $52,000 |
| Artists, Broadcasters, Writers, Editors, Entertainers, and Public Relations Specialists | $66,100 |
| Total Average Annual Salary | $75,200 |
Advanced Degrees
In addition to establishing a firm financial footing, more than half of all Political Science majors go on to earn advanced degrees. Of those who earn graduate degrees…
25% earn a law degree (JD or LLM)
25% earn a Master's in a business-related field
16% earn a Master's in Political Science
12% earn a Master's in Public Administration
4% earn a PhD (40% of these are in Political Science)
Since 2010, Fordham Political Science majors have garnered 7 Fulbright Fellowships and a host of other highly-competitive awards and fellowships allowing them to travel, study, and conduct research around the world. Political science majors also go on to top-ranked graduate programs, including:
American University
Cambridge University (U.K.)
Carnegie-Mellon University
Columbia University
Harvard University
Georgetown University
George Washington University
London School of Economics and Politics
New York University
Sciences Po (Paris)
Trinity College (Dublin)
Tufts University, Fletcher School of Law and Diplomacy
University of California, Berkeley
University of Southern California
*Source: College Majors Handbook with Real Career Paths and Payoffs, Third Edition (St. Paul, MN: JIST Publishing, 2012). Data reflect national figures for the United States.