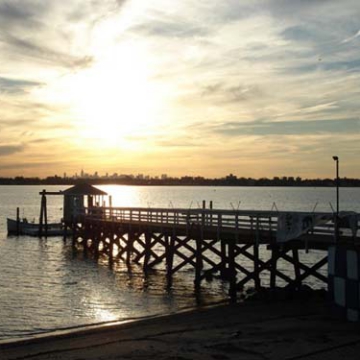 Morris Yacht & Beach Club is located on the tip of City Island overlooking Long Island Sound and Eastchester Bay. It has five and a half acres of park-like property, 400' of waterfront, and is a 20-minute drive from our Rose Hill Campus
Fordham has its own storage shed and maintains its fleets of 18 420Es and 6 FJs on dollies located a short walk to the club's sandy beach. The Club's location provides quick access to the bay and sound, which provide a variety of sailing conditions, enabling the team to practice in anything from open water and steady breeze to flat water and shifty conditions. This allows the team to simulate the conditions for a wide range of collegiate venues in preparation for it's weekend events.
City Island is one of three points of a triangle, which forms a hotbed of College Sailing in Western Long Island Sound. Across the Sound is the United States Merchant Marine Academy at Kings Point and across the Bay is SUNY Maritime College at Fort Schuyler.