Feerick Center Awards and Benefit Reception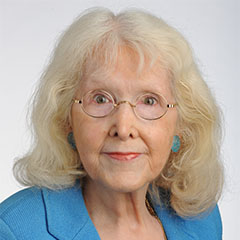 Professor Maria L. Marcus
(awarded posthumously)
Gail D. Hollister Dedication to Excellence Award
Maria L. Marcus was a trailblazing civil rights advocate for the N.A.A.C.P., a renowned appellate advocate who argued before the Supreme Court six times, and an esteemed Fordham Law professor who was revered by generations of Fordham Law School students and cherished by her fellow faculty members and colleagues. Of the 150 women who have argued before the Supreme Court only eight appeared more than Professor Marcus. During her 42-year tenure at Fordham Law School, she was known for her brilliant, masterful teaching and for coaching a record number of winning moot court teams. Professor Marcus, by the example of her career, modeled the highest values of Fordham Law School and a Jesuit institution—intellectual rigor combined with a commitment to advance social justice. Professor Marcus's family fled Nazi-occupied Austria in 1938. She attended Oberlin College and Yale Law School.

Kim Koopersmith '84
Akin Gump Strauss Hauer & Feld LLP
Spirit of Service Award
Kim Koopersmith '84 serves as chairperson of Akin Gump Strauss Hauer & Feld LLP. In this role, she has played a key part in the enhancement of the firm's overall performance and has earned numerous recognitions for her leadership. In 2020 she was named by the Financial Times as one of its Innovative Law Firm Leaders for her groundbreaking approach to leadership, commitment to diversity and inclusion and employee wellbeing, and success in guiding the firm's continued growth. She is frequently quoted in the media on model practices in the legal industry. Under her leadership, in 2020 Akin earned Mansfield 3.0 Certified Plus certification for its success in promoting women, lawyers of color, LGBTQ+ lawyers and lawyers with disabilities into leading roles at the firm. She also spearheaded Akin's efforts to join with other firms in launching the Law Firm Antiracism Alliance. Ms. Koopersmith is a graduate of the University of Pennsylvania and Fordham Law School.

Jennifer A. White-Reid '98
Honorable Deborah A. Batts Life of Commitment Award
Jennifer A. White-Reid '98 is Chief of Staff and Senior Advisor to the CEO of the Urban Resource Institute. Ms. White-Reid has dedicated her career to the empowerment and wellbeing of underserved individuals and families. She has brought her considerable experience and expertise in leadership, management, and advocacy to one of the leading nonprofits in New York City dedicated to empowering individuals, families, and communities—particularly communities of color and disenfranchised communities—to end cycles of violence, homelessness, poverty and trauma. At URI, Ms. White-Reid oversaw a broad array of domestic violence programs, which serve 1,800 adults and children every day. A recognized leader in the field, she has received numerous honors and serves on various boards and committees, including as the current co-chair of the NYC Coalition of Domestic Violence Residential Providers. Ms. White-Reid graduated from New York University with a Bachelor's degree in psychology and from Fordham Law School, where she was a Stein Scholar.

Patrick J. Foye '81
James F. Gill Spirit of Hope Award
Patrick J. Foye '81 has had a distinguished career in the law, private sector, and as a public servant, serving as president of the Metropolitan Transportation Authority from 2017 to 2019 and as its chairman and CEO from 2019 to 2021. His tenure at the MTA coincided with the COVID pandemic, during which time he secured billions in federal funds to keep the agency solvent. He began his public service career at the Long Island Power Authority and Empire State Development Corporation. In 2011, he became executive director of the Port Authority of NY and NJ, where he navigated the agency's response to Superstorm Sandy and led the $5 billion renovation of LaGuardia Airport. Mr. Foye started his legal career at Skadden, Arps, Slate, Meagher & Flom. He serves as CEO of ASTM North America, an infrastructure public-private partnership firm. He is a graduate of Fordham College and Fordham Law School.

William P. Harrington '82
Bleakley Platt & Schmidt, LLP
Spirit of Service Award
William P. Harrington '82 is chairman of the Executive Committee of Bleakley Platt & Schmidt, LLP and leads the firm's Litigation and Toxic Tort/Complex Litigation Practice Groups. Mr. Harrington is an experienced trial attorney who has represented Fortune 500 companies in criminal, commercial, environmental, civil rights, real estate, gaming and employment discrimination matters. Mr. Harrington is a frequent author and lecturer on litigation and environmental issues. Among numerous other leadership and service awards, he received the Ellis Island Medal of Honor from the National Coalition of Ethnic Organizations and the Mother Mary Walsh Award from Dominican Sisters Family Health Services. From 1982 to 1983, Mr. Harrington served as a law clerk for Hon. Charles L. Brieant, Jr., United States District Judge for the Southern District of New York. A graduate of Fordham Law School, Mr. Harrington received his undergraduate degree from The College of William & Mary, where he was an Academic All-American basketball player.

William F. (BJ) Harrington '59
(awarded posthumously)
Bleakley Platt & Schmidt, LLP
Spirit of Service Award
William F. (BJ) Harrington '59 was an accomplished T&E lawyer who practiced law for 51 years at the law firm of Bleakley Platt & Schmidt LLP. He is credited with helping to establish the firm as one of the premier firms in the region and served as its chairman and managing partner for 35 years. In addition to private practice, Mr. Harrington was a lifelong public servant and, among other roles, served as Legislative Counsel to Lt. Governor Malcolm Wilson and as Town Attorney and Town Justice for the Town of Pound Ridge. He was deeply involved in philanthropic and community service through the Catholic Church, Catholic institutions, and a wide range of educational institutions. His commitment, devotion, and generosity to Fordham Law School however was truly extraordinary, including through his service on the Law School's Alumni Board of Directors. Mr. Harrington received a degree in accounting from Manhattan College and a law degree from Fordham Law School.

Frederick J. Martin Jr.
(awarded posthumously)
Bleakley Platt & Schmidt, LLP
Spirit of Service Award
Frederick J. Martin Jr. was a prominent White Plains attorney who practiced at the law firm of Bleakley Platt Schmidt LLP for 63 years, until his retirement in 2019. Early in his career, Mr. Martin served as a Westchester County Supervisor and Yonkers City Councilman. Along with his colleague William BJ Harrington, Mr. Martin helped build Bleakley Platt into one of the premier law firms in the region. He was a leading litigator and won precedent-setting cases in New York's highest courts. In addition to his prominence in the law, Mr. Martin also enjoyed success as an owner of thoroughbred horses. Along with his father, he was a founding member of the Friendly Sons of Saint Patrick of Westchester County. Mr. Martin attended the College of the Holy Cross '54 and Columbia Law School '57, where he was a Harlan Fiske Stone Scholar.

Eleanor Acer '88
Human Rights First
Champion of Justice Award
Eleanor Acer '88 serves as the director of Human Rights First's Refugee Protection Program and oversees research and advocacy on issues relating to refugee protection, asylum, and immigrants' rights. Ms. Acer advocates, speaks and writes regularly on issues relating to the human rights of refugees and migrants, including legal representation, detention, U.S. asylum law and policy, U.S. global refugee protection and resettlement policies, and protection from xenophobic and bias-motivated violence. She works closely with HRF's pro bono legal representation team, conducts field research, has authored numerous reports and articles, and has testified before the U.S. Congress. She served on the American Bar Association's Commission on Immigration and currently serves on the International Detention Coalition's Advisory Board. She was also vice chair of the Refugee Council USA from 2006 to 2008. Ms. Acer received a J.D. from Fordham Law School and a B.A. in History from Brown University.

Kennji Kizuka
Champion of Justice Award
Kennji Kizuka is currently director for asylum policy at the International Rescue Committee, where his work includes coordinating the organization's approach in the United States, Europe, and Latin America to ensure safe access to asylum at borders, dignified reception conditions, and supportive services to asylum seekers waiting adjudication of their cases. Mr. Kizuka was previously associate director of research and analysis for refugee protection at Human Rights First working to monitor the human rights impact of United States border and asylum policies, including the Title 42 and "Remain in Mexico" policies. He started at HRF as an Immigrant Justice Corps Justice Fellow, representing asylum seekers in immigration court and asylum office proceedings. Mr. Kizuka also previously served as a judicial law clerk to the Honorable Rosemary S. Pooler on the U.S. Court of Appeals for the Second Circuit. He is the vice chair for the advisory committee to the Children's Rights Division of Human Rights Watch.
---
The annual benefit reception provides crucial funding for the Feerick Center, and we celebrated these incredible honorees for their commitment to service and social justice.
Jennifer Jones Austin '93
Honorable Deborah A. Batts Life of Commitment Award

Bradley J. Butwin '85
O'Melveny & Myers LLP
Spirit of Service Award

Rafal Gawlowski '00
Latham & Watkins LLP
Spirit of Service Award

Professor Gail D. Hollister '70
(awarded posthumously)
Dedication to Excellence Award

Edward G. Williams
Gail D. Hollister Dedication to Excellence Award

Gregory P. Williams
Gail D. Hollister Dedication to Excellence Award

Organizational Honoree

New York Women's Bar Association Foundation, Inc.
Champion of Justice Award

Laura A. Coruzzi Ph.D. '79, J.D. '85
Spirit of Service Award

Rhonda Cunningham Holmes '97
Honorable Deborah A. Batts Life of Commitment Award

A. Stephen LaSala '40 and Helen A. LaSala
Spirit of Service Award
Awarded posthumously

Stephen R. LaSala '70
Spirit of Service Award

Thomas E. LaSala '78
Spirit of Service Award

Maura K. Monaghan '96
James F. Gill Spirit of Hope Award

Organizational Honorees

Cahill Gordon & Reindel LLP
Champion of Justice Award

Artemis Anninos '96
Champion of Justice Award

William M. Hartnett '79
Champion of Justice Award

Robert A. Ferris '66
George J. Mitchell Lifetime Public Service Award

Evelyn Jarvis Ferris
George J. Mitchell Lifetime Public Service Award

Hon. Deborah A. Batts
Life of Commitment Award
Awarded posthumously

Sylvia Fung Chin '77
Spirit of Service Award

Mary Ellen L. Kris '76
James F. Gill Spirit of Hope Award

Charles K. O'Neill '72
Spirit of Service Award

Organizational Honorees

Fragomen, Del Rey, Bernsen & Loewy LLP
Champion of Justice Award

Scott J. FitzGerald '92
Champion of Justice Award

Michael F. Turansick '82
Champion of Justice Award

Denis F. Cronin '72
James F. Gill Spirit of Hope Award

Nancy E. Delaney '88
Spirit of Service Award

Sharon L. McCarthy '89 and Antonio X. Molestina '89
Spirit of Service Award

Stacey J. Rappaport '96
Champion of Justice Award

Organizational Honorees

Mutual of America
Thomas J. Moran and William J. Flynn GSAS '51
(awarded posthumously)
George J. Mitchell Lifetime Public Service Award

Terra Firma: Healthcare and Justice for Immigrant Children
Dr. Cristina Muñiz de la Peña, Dr. Alan Shapiro, and Brett Stark
Life of Commitment Award

Robert J. Reilly '75
George J. Mitchell Lifetime Public Service Award

Rita M. Glavin '96
Spirit of Service Award

J. Gregory '75 and Laura Milmoe
Spirit of Service Award

Daniel P. O'Toole '92
James F. Gill Spirit of Hope Award

Cesar A. Perales '65
Life of Commitment Award