CLIP brings together scholars, the bar, the business community, technology experts, the policy community, students, and the public to address and assess policies and solutions for cutting-edge issues that affect the evolution of the information economy.
In pursuing this mission, CLIP pursues work in five related areas:
Land policy relating to the regulation of information and public values
Law and policy for innovation and knowledge creation
Technology, privacy and security
Technology and governance
The protection of intellectual property and information assets
CLIP hosts and facilitates high-level public discourse and conducts research on topics in these areas. CLIP's work is disseminated widely and used to help influence the guiding principles of the new knowledge-driven society and to help find solutions to difficult legal issues posed by information technologies.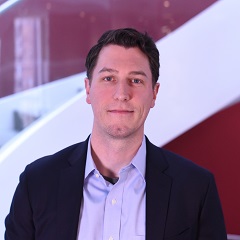 Tom Norton is the Executive Director of the Center on Law and Information Policy. His research focuses on privacy and data protection law and policy as well legal accountability in software systems. His work appears in both law and technology publications, and he has received support from the National Science Foundation. At Fordham, Tom teaches courses in Information Privacy Law. Tom earned a JD from Fordham University School of Law and served as CLIP's Privacy Fellow from 2014 to 2016. Prior to returning to CLIP as Executive Director, Tom was a litigation attorney at the law firm Arent Fox LLP in New York City. He is admitted to practice in the State of New York and the Commonwealth of Massachusetts.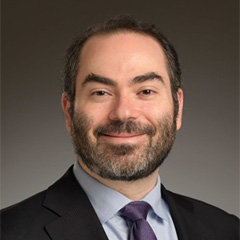 Ron Lazebnik is the Academic Director of the Center on Law and Information Policy. He primarily teaches the Samuelson-Glushko Intellectual Property and Information Law Clinic. He has assisted clinic students with a number of significant legal matters, including the filing of amicus briefs in important IP cases before the U.S. Court of Appeals for the Second Circuit. In 2012, under his leadership, the clinic became a part of the U.S. Patent and Trademark Office pilot programs to allow students to practice before patent and trademark examiners. His academic and scholarly interests include IP law, information law, and Internet law. Before joining Fordham Law, he was in private practice, where he helped represent clients in various matters involving patents, copyrights, trademarks, trade secrets, and general commercial litigation. He has also assisted in the defense of corporations and government agencies being investigated by the SEC, the Public Company Accounting Oversight Board, and the U.S. Department of Justice. Professor Lazebnik is a graduate of Harvard Law School, where he spent time as a Massachusetts SJC Rule 3:03 student attorney and as the Director of Research and Technology for the Harvard Legal Aid Bureau. He also served on the staff of the Harvard Journal of Law and Technology and contributed to GartnerG2's and the Berkman Center for Internet & Society's 2005 white paper "Copyright and Digital Media in a Post-Napster World." Prior to law school, he received an MS in electrical engineering from Case Western Reserve University.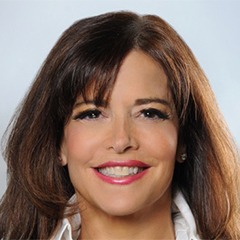 Andrea Flink is a Senior Fellow at the Center on Law and Information Policy. Andrea recently earned her LL.M. at Fordham University School of Law, concentrating in Intellectual Property and Information Technology with a focus on Data Privacy. Previously, Andrea was a partner at Winston & Strawn, where she focused her practice on mergers and acquisitions, securities law and general corporate matters. Prior to her time at Winston & Strawn she was an associate in the corporate department at Cravath, Swaine & Moore. She also served as general counsel to Ultrafabrics, LLC on a part-time basis. Andrea is a former Co-Chair of the Reentry Subcommittee and a Member of the Privacy Subcommittee of the Women in the Legal Profession Committee of the New York City Bar. She is a graduate of Fordham University School of Law, where she was Commentary Editor of the Fordham Law Review, and Boston University's School of Public Communication, where she studied Public Relations and Journalism.
N. Cameron Russell
Executive Director (July 2013 - August 2018)

Tom Norton
Privacy Fellow (February 2014 - May 2016)

Jordan Kovnot
Interim Director (March 2013 - July 2013)
Privacy Fellow (April 2012 - March 2013)

Jamela Debelak
Executive Director (April 2009 - March 2013)
Leitner Fellow (January 2008 - March 2009)

Noa Mor (2019-2021 CLIP Visiting Scholar)
Clarisa Long (2019-2020 CLIP Visiting Scholar)
Steven M. Bellovin (2018-2019, CLIP Visiting Scholar)
Céline Castets-Renard (2017-2018, Fulbright Fellow; 2018-19, CLIP Visiting Scholar)
Robert Gellman (2012-2013, Senior Fellow)

Senior Fellows and Visiting Scholars

Sibylle Pouillaude (2022-2023 CLIP Visiting Scholar)

2022-2023 Project Fellows

Loris Baechi
Anda Bologa
Taya Bokert
Claudio Rezende Filho
Josephine Freiin von Schorlemer
Michael Mattson
Prachi Patel
Gideon Pollack
Alexandra Sahara
Hannah Saltzman
Graham Streich

Douglas Cuthbertson
Partner
Lieff Cabraser Heimann & Bernstein

Joseph V. DeMarco
Partner
DeMarco Law, PLLC

David Feder
Counsel
Fenwick & West LLP

Eleanor M. Lackman
Partner
Mitchell Silberberg & Knupp LLP

James Leitner
President
Falcon Management Corporation

Seth A. Metsch
General Counsel
Operative

The Hon. Marilyn Hall Patel (Ret.)
U.S. District Court for the Northern District of California

Alexander Southwell
Partner
Gibson, Dunn & Crutcher LLP

CLIP is grateful for the support of the donors and sponsors who have made our work possible.

AT&T
Comcast Corporation
Jeffrey P. Cunard
Cy Pres Award from Flash cookies class action settlement approved by the US District Court for the Central District of California
Darktrace
Joseph V. DeMarco, DeVore & DeMarco LLP
Dentons
Digital Trust Foundation
FireEye
Andrea Flink
Flora Garcia '07
General Electric Co.
Gibson, Dunn & Crutcher LLP
Google, Inc.
HJ Heinz Company Foundation
Hogan Lovells
Robert W. Hollweg '67
International Association of Privacy Professionals
International Trademark Association
Constantine N. Katsoris '57
Sheila Kaplan
Eleanor M. Lackman, Cowan DeBaets Abrahams & Sheppard LLP
William & Mildred Lasdon Foundation
James Leitner '82
LF Foundation, Inc.
MUFG Union Bank Project Finance Group
Microsoft
William E. Min '90
National Science Foundation
Norton Rose Fulbright US LLP
Orrick, Herrington & Sutcliffe LLP
Pfizer Foundation
Pascale Reidenberg
Roger M. Sachs, MD '77
Roger Sachs Family Foundation
Estate of Warner S. Shelly '24
Edward M. Stroz CBA '79 & Sara A. Spooner
Stroz Friedberg, LLC
DeRoy C. Thomas '52
Scott Trainor '96
Weil, Gotshal & Manges Foundation Inc.
John H. Wolff '76 & Nancy Eppler-Wolff
Shlomit Yanisky-Ravid