Commuter Student Services Events and Activities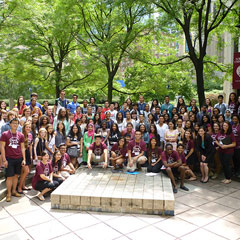 CSA and CSS hold special events for commuter students every year. While CSS hosts Commuter Brunch, Commuter BBQ, and Commuter Outreach, CSA holds Commuter Student Appreciate Week, New York Culture Day, Coffee Breaks, and Midday Breakfast.
Freshman Commuter and Transfer Student Barbecue
During the summer, new commuter students are invited to attend a summer outdoor barbecue, where they have the opportunity to meet other new students, meet campus administrators, and tour the campus. At the barbecue, students learn more about student clubs and organizations, New Student Orientation and Commuter Life at Fordham.
Commuter Brunch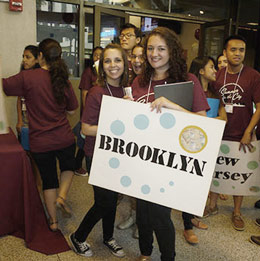 CSS sponsors a bi-weekly Commuter Brunch program for commuter students. If you're hungry for a late morning snack or just want the opportunity to mingle with other commuter students, then this is your chance! Come meet the graduate intern for Commuter Student Services or just grab a bite to eat before you go to your afternoon classes.
Commuter Outreach
Throughout the semester, CSS sponsors commuter outreach programs on the Indoor Plaza of Lowenstein. Commuter students can meet the graduate intern for Commuter Student Services through these programs. CSS holds outreach events specific to commuter students, including Off-Campus Commuter Luncheons and Off-Campus Tabling. Past commuter outreach programs have included filling out surveys for free umbrellas, enjoying cookies, and other giveaways!
Electronic Commuter Newsletter
Getting involved on campus is easy: just check out the electronic Commuter Newsletter! CSS emails a biweekly commuter newsletter directly to your Fordham email account packed with information about upcoming commuter-specific programs and events.
The Subway Series
The Subway Series is a commuter student outreach program run by CSS. During the week of tabling, the Graduate Intern surveyed students to hear more about what programs they would like to see on the Lincoln Center campus.
C-SAW: Commuter Student Appreciation Week
C-SAW is a week of programming designed by commuters for commuters and it is sponsored by CSA. C-SAW often features a Coffee Break, CSA's favorite food give-away program, and other fun on-campus programming.
Coffee Breaks
CSA also sponsors Coffee Breaks, which provides commuters with a break from academic life and a chance to connect with other commuters.
Midday Breakfast
Right before finals take place, Fordham offers a Midnight Breakfast for students. Sometimes commuters cannot stay for this event. Commuting Students Association, United Student Government, and Campus Activities Board along with administrative departments sponsors a Midday Breakfast held on one of the last days of classes at a commuter-friendly lunchtime. If you're stressing over finals, check this event out.