Rose Hill Campus: Martyrs' Court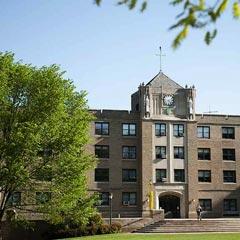 This complex is composed of three sections named after the 17th-century Jesuit Martyrs of North America: Saint Isaac Jogues, Saint John LaLande, and Saint Rene Goupil. Martyrs' Court is divided into two residence halls: Martyrs' Court: LaLande/Goupil and Martyrs' Court: Jogues. The halls house primarily first-year students in double and triple rooms. Select singles are reserved for upperclassmen.
Martyrs' Court is located on the west-end of the campus and overlooks Martyrs' Lawn, one of the many green spaces on Fordham University's Rose Hill campus.
Housing Rates
Rates are for the nine-month academic year and include all utilities, cable television, telephone service, laundry, and membership to the Lombardi Fitness Center. Meal plan options and rates are available. These rates do not include the residence hall activity fee. Room configurations and rates are subject to change.
See the current room rates for Martyrs' Court. Room configurations and rates are subject to change.
All residents in this dormitory are required to have a meal plan.
Move-in dates vary, please see Important Dates for more information.