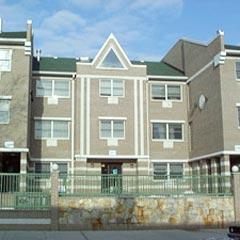 Located at 2451-2461 Arthur Avenue in the Belmont neighborhood of the Bronx, Arthur House is home to upperclassmen students at Rose Hill. Arthur House residents have the opportunity to experience living in the urban environment with all the benefits of on-campus housing.
Independence with On-Campus Benefits
Arthur House residents enjoy furnished apartments in University-operated buildings. Off-campus houses are staffed by a Resident Director and Resident Assistants and are maintained by the University. The Belmont Community Housing program offers similar services and benefits as those offered within the on-campus housing program, coupled with the independence of off-campus living.
Arthur House accommodates seven students in each of the eight apartments. Each apartment has a combination of single and double bedrooms, a living/dining area, kitchen, and full bathrooms
Free Off-Campus Shuttle Service
Getting to your off-campus residence at night is made extremely safe through the Late Night Shuttle Service, offered by the Security Department. Available every night from 10 p.m. until 5 a.m., this service is free for all Fordham students, faculty, and staff.
Meal Plans
Meal plans are not required but are available to off-campus students. The lively Belmont neighborhood offers plenty of grocery shopping and restaurant options.
Facilities
Residents of Belmont Community Housing must set up and pay for their own Internet, cable, and telephone connections. No laundry services are provided within all of these buildings.
Room Rates
Rates are for the nine-month academic year and include utilities and membership to the Lombardi Fitness Center. These rates do not include the residence hall activity fee.
See the current room rates for Arthur House. Room configurations and rates are subject to change.