An effective security program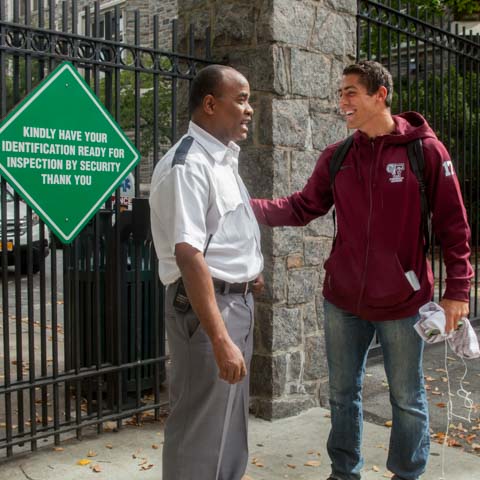 relies upon the active participation of every student, faculty and staff member. Here at Fordham your personal safety is most important. With your assistance and cooperation we will provide the services, staffing and guidance to achieve that end.
The Annual Security and Fire Safety booklet is designed to assist you with information about a variety of security services, programs and policies. A number of University departments, including Residential Life and Student Activities, produce informational materials in more detail than found in this reference guide. We encourage you to contact these departments for more specific information, if and when desired.
The Jeanne Clery Act requires that colleges and universities provide information to students and employees.
From the Associate Vice President of Public Safety
The members of the Department of Public Safety are committed to your personal safety. We have allocated the resources necessary to provide a safe and secure environment for the campus community. The policies, procedures and programs of Fordham University have been designed and implemented to contribute, with your participation and cooperation, to attaining the highest level of safety and security possible. Safety is always a shared responsibility. Any member of the University community who becomes a victim of a crime is encouraged to immediately report the incident to the Office of Public Safety and the local police.

The Department of Public Safety provides 24-hour, 7-day-a-week coverage at the Rose Hill and Lincoln Center campuses. Public Safety personnel are carefully screened before being assigned to Fordham University. They are strictly supervised to ensure quality performance. Public Safety personnel are overseen by a duty supervisor on every tour at all campuses. This supervisor is a former law enforcement professional with extensive patrol, management, investigation and crime-prevention experience. Public Safety personnel respond to emergency and non-emergency calls for service, provide traffic control and enforcement of traffic regulations, and assist in building inspections and fire prevention.
University Public Safety personnel are empowered to enforce Fordham regulations, to investigate incidents and to apprehend those who violate University regulations or commit crimes on campus. Criminal violators who are apprehended are turned over to the local police for arrest processing. When necessary, Fordham University will press charges against criminal violators. At Rose Hill, the Department of Public Safety is located in Thebaud Annex. The Lincoln Center operation has bases in the Lowenstein Lobby and in the McMahon Residence Hall Lobby.
Public Safety personnel are assigned 24 hours a day to provide continuous service to the campus community. Public Safety personnel have a close working relationship with the local New York City police precincts - namely the 48th and the 52nd at Rose Hill and the 20th at Lincoln Center. The Westchester campus Public Safety office is located on the first floor of 400 Westchester Avenue, Harrison, N.Y. It is staffed Monday through Friday from 7:00 am to 11:00pm, Saturday and Sunday from 7:00 am to 6:00 pm. The Westchester supervisors maintain a close working relationship with the Harrison Police Department. The Associate Vice President for Public Safety meets regularly with police commanders to help ensure the safest environment for our campus community.