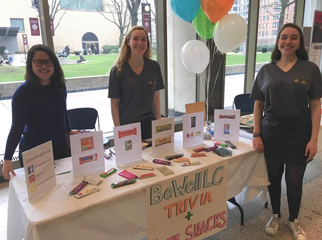 BeWellLC is a student-led health and wellness organization advised by the staff of the Alcohol and Other Drug Education office. In addition to general membership, some BeWellLC members can apply and be trained by AODE staff to become Wellness Educators, peer leaders in the subject of alcohol and other drug safety. Wellness Educators and general members alike plan programming about this and other wellness topics.
Inspired by the Ignatian tradition of the Magis, these students serve as active change agents and leaders in service striving to continuously improve the quality of student life at Fordham University. They plan events and develop campaigns to increase positive behaviors on and off campus and decrease the harmful effects associated with the misuse and abuse of alcohol and other drugs.
BeWellLC provides accurate information and opportunities for the exploration of personal goals and values that challenge and empower students to make safe and informed choices. By taking this proactive approach, these students hope to increase awareness and challenge all students to play a role in transforming the culture of alcohol and other drug use on campus.
If you are interested in becoming joining this organization, please contact them at [email protected]
Sample of past events:
Fordham's Amazing Race
Interactive Apartment Party
Pop Rocks, Not Pills
Shred Your Stress
Health and Wellness Fair
De-Stress Fest