Lincoln Center Campus Facilities Rentals
If you would like to inquire about holding your event at Fordham's Lincoln Center campus, contact Leslie Ann Timoney at 212-636-7900 or by email at [email protected]. Please note only Aramark catering is permitted at these locations.
Fordham faculty and staff should use , the University's room reservation system to request campus facilities. Undergraduate students, please email [email protected].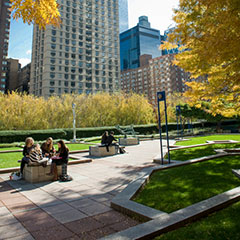 12th Floor Lounge E. Gerald Corrigan Conference Center ($7,500) - Room accommodates 150-200 seats in lecture rows or 35 seats in hollow square seating, cocktail reception for 200-250 guests, or banquet seating for a buffet dinner of 150 guests (15 round tables). Catering must be arranged with Aramark. Room has wireless internet and a fixed smart podium for presentation.
Plaza View Room ($1,800) - This room has a fixed conference table and seats 16. It is appropriate for a conference or meeting. This room has wireless internet connection, audio and video conferencing and built-in projector/screen for presentations. Light catering must be arranged with Aramark which can be set up on an existing service counter in the room.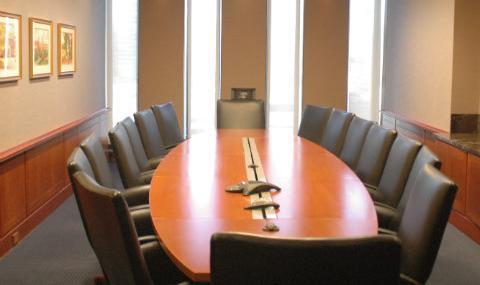 South Lounge ($900) - This room, at the rear of the cafeteria, seats 50 people lecture-style with a speaker's table and/or lectern. Hollow square seating will accommodate 25 people. Audio/visual equipment may be requested through Media Services at x6313. External groups request A/V equipment through the Office of Conference Services.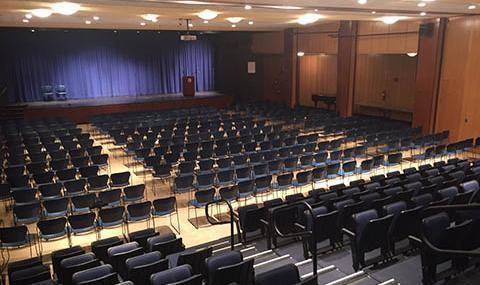 Pope Auditorium ($7,500) - This auditorium, at the entrance of the Leon Lowenstein Building at 155 West 60th Street, sits 400 people in a lecture style format with chairs and 200 with banquet style tables for formal sit down lunch/dinner events. This location's availability is dependent upon our Theater Department 's use of the space for their production season. Please inquire with Conference Service for availability. Food and beverage is permitted in this space courtesy of Aramark.
McMahon Hall Lounge Room 109 ($900) - Lounge can accommodate 80 people in lecture-style seating or 48 people in a hollow square. Banquets can accommodate 48 people at 8 tables with 2 tables for food service. Food service may be arranged with Aramark or an outside caterer. No alcohol service is permitted in this room. A/V equipment can be arranged through Media Services x6313; for external groups, A/V equipment is requested through Conference Services.
Classrooms ($650) - Classrooms range from small rooms holding 15 to large rooms with 75 seats. The average classroom seats approximately 35 people. Food and beverages are prohibited on the 3rd floor and in all other Smart classrooms. Please keep in mind that classroom space in Lowenstein is extremely limited on school days, Monday through Friday.