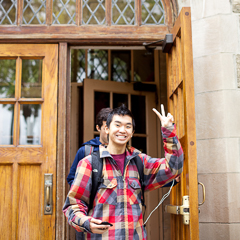 Your Fordham ID card functions as your official University identification, but it is more than just an identification card, it's an essential part of campus life at Fordham University. You will want to keep it with you at all times. Guard your card as you would any important document. Do not lend your card to anyone for any reason. ID cards are issued to individuals only. Generic ID cards will not be produced by the ID Services Section or the Department of Public Safety. No individual can be issued more than one (1) ID Card at a time.
We have two different types of ID cards. A physical card or an electronic card on your mobile device. You are not able to have both of these at the same time. In order to choose which card you would like you would need to opt-in or opt-out.
Physical ID card: Please log in to the portal. Once logged in you can navigate to the My Apps page. There you will see a channel labeled Electronic ID Opt-In/Out where you can opt-out to obtain a physical ID card.
Electronic ID card: Please visit our page for Electronic ID cards.
Students
ID cards are issued to new students annually based on information from Enrollment Services. All ID cards are pre-printed by the University Card Centers located at the Rose Hill, Lincoln Center, and Westchester campuses. They are distributed each September through the various graduate and undergraduate schools during their respective orientations. Resident Students receive their IDs from Residential Life. The process of creating and distributing additional IDs is repeated for incoming spring semester students in January.
Students must have registered for their courses and be cleared to attend classes by the University in order to receive their ID card. Generally, only your school or the Registrar's Office will be able to update your records to a cleared status.
New Students
Newly admitted students must upload a photo in the New Student or Student tab on the University portal. You can log in to the portal.
Employees
New employees receive specific instructions on how to obtain their cards from Human Resources during the hiring process.
Appointments
Please book an appointment before stopping by one of the ID centers. You can book your appointments here for Rose Hill and Lincoln Center. For the Westchester campus please call 914-367-3045 ahead of time for availability.
Important Functions of Your ID Card
Identification: With your picture on the front and your account information magnetically encoded on the back, your ID card functions as your official University identification card, instantly identifying you as a fully privileged member of the University community and should be carried with you at all times.
Building Access: Your ID card allows you to access residence halls, specified computer laboratories, and other areas on campus.
Library Privileges: Using University Libraries is a big part of your life as a Fordham student. With your ID card you can access Walsh Library at the Rose Hill campus, Quinn and Law Libraries located at the Lincoln Center campus as well as the Westchester Campus Library. The card is also used to set up an on-campus printing account at the libraries and other campus locations.
Access to Meal Plans: Your ID card identifies you and provides access to the meal plan and DCB accounts in the university cafeterias.
Lombardi Memorial Center Privileges: You can use your Fordham University ID card to gain access to Lombardi Memorial Center. For additional privileges inquire in the Director's office or call 718-817-4260.


Special Discounts: Your ID card also makes you eligible for student discounts at various museums, movie theatres, on-and-off Broadway theatres, and other cultural attractions in New York City. Some neighborhood businesses offer discounts if you show your Fordham University ID Card when making a purchase. For details contact the Office of Student Leadership and Community Development on your respective campus.