Our Goals
We believe the study of Catholicism provides a powerful lens through which to view human experience and the American past and present. Acting on this conviction, our programming aims to:
Promote the understanding of Catholic thought and practice
Explore Catholicism's diverse manifestations in American contexts
Create opportunities for informed and compassionate engagement with the religious and social issues of our time.
Director's Welcome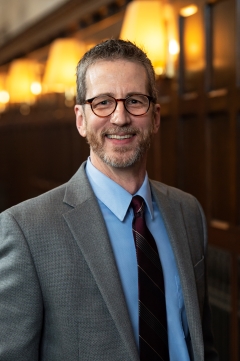 It has been a privilege to assume the role of Director of the Center in a year filled with tragedy and triumph, a year both exhausting and exhilarating. The challenges are clear. Our global community continues to strain under the COVID pandemic. Our nation renews its commitment to democracy in electing the second Catholic president in its history, all while grappling with the long and insidious history and ongoing reality of racism in its many forms. Despite the visionary leadership of Pope Francis, our church exhibits deep divisions. Clearly, we have a great deal of work to do.
At the same time, we at the Center are inspired to, in the words of our national youth poet laureate (and Catholic) Amanda Gorman, "find light in this never-ending shade." Last semester, that light came in the stories of brave religious women: our Rita Casella Jones lecture, "In the Shadow of the Cross: Black Women and the Making of U.S. Catholicism" by Dr. Shannen Dee Williams (Villanova) and our December webinar, "The Four Martyred Churchwomen of El Salvador: Allies in Today's Struggle for Social Justice" by Dr. Edward Brett and Donna Whitson Brett. These presentations shone a light on true "re-sisters" whose lives of faith exemplify the gospel call to confront injustice and live in compassionate solidarity.
This spring our programming will feature several lectures, panels, and our faculty reading seminar that continue to explore faith, resistance, and hope. We are thrilled to host Angel Garcia, whose presentation, "Priesthood Using and Losing Power" will illuminate the ministry and community organizing of Fr. Neil Connolly in the Puerto Rican migration and the formationof the "South Bronx People for Change." Dr. Kyle Lambelet (Candler/Emory) will draw from his research on the SOA watch and political theology to speak on Liturgical Protest from Ft. Benning to Ferguson. Our "Taking Responsibility" initiative will hold three webinars on The Clerical Sexual Abuse Crisis in Historically Marginalized Communities in which a remarkable group of panelists will speak on how Latinx, Native American, and Black communities have been affected by the scourge of the Clergy sexual abuse crisis in the Catholic Church. Our faculty reading seminar will continue its exploration of race as we discuss works by Ibram X. Kendi, Claudia Rankine, and Imani Perry. Finally, we will be hosting "Revelation" & Race in Flannery O'Connor: A Radio Play and Contextual Conversation, director and playwright, Karin Coonrod and her acting troupe Campagnia de' Colombari.
We hope you find the Curran Center enriching. As winter gives way to spring, so we continue to work in the hopes that resilience is rewarded with the blossoming of justice.
Cuídense,
Michael E. Lee
Director, The Francis and Ann Curran Center for American Catholic Studies
In 2001, university president Rev. Joseph O'Hare, S.J., approached Rev. Mark Massa, S.J., about forming a center for the study of American Catholicism. In the following months, Fr. Massa set to work developing Fr. O'Hare's vision, in hopes of establishing a nationally-recognized hub for the study of American Catholic history, identity, and practice.

In 2004, John and Connie Curran expressed to Fr. Massa their interest in endowing the center, and the Francis and Ann Curran Center for American Catholic Studies, named in honor of John's parents, was born. Dedicated to advancing the Jesuit Catholic educational mission of the university, the Curran Center is a hub for many different types of events and programs, including public lectures, faculty seminars, major scholarly conferences, and an undergraduate concentration that, in the words of our students, shapes the way Fordham students "see and engage the world."