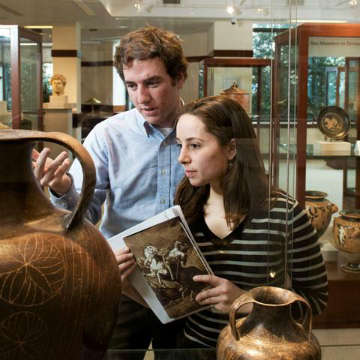 The Fordham Museum of Greek, Etruscan, and Roman Art located on our Rose Hill campus.
Salvete! The Department of Classics teaches courses in Ancient Greek, Latin, and classical civilization on both the Rose Hill and Lincoln Center campuses. The civilizations of ancient Greece and Rome are fundamental to the development of western history and continue to have an important influence today. The study of the Greco-Roman classics has always been central to Jesuit education, and Fordham is the only American Jesuit university to offer the Ph.D. in this field.

One studies the classics and the classical world not only for themselves, but also to understand better western history, literature, art and architecture, philosophy, and Christian theology. Although we are a small department, we support the much larger presence of (ancient) philosophy, early Christian studies, and Medieval Studies on the campus.
Two areas of major or minor concentration are offered: classical languages and classical civilization. The Department also offers at the Graduate level the M.A. and the P.h.D degrees.
The Ph.D. in Classics and the Master of Arts in Classics programs have been placed on hiatus and will not be accepting applications at this time.