Advanced Certificate in Financial Econometrics and Data Analysis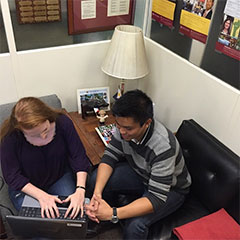 Please note: The Advanced Certificate in Financial Econometrics and Data Analysis is available only to current Fordham University students
Today's financial world requires analysts who know how to extract critical business knowledge from vast amounts of data. Our graduate-level certificate in financial econometrics and data analysis is designed to meet that growing need.
This interdisciplinary program, which combines the strengths of our computer and information science department and economics department, will provide you with state-of-the-art rigorous training in quantitative analysis.
Topics covered include:
Econometric techniques, starting with least squares estimation and finishing with forecasting and modeling of financial variables
Statistical diagnostics and corrections for data using an industry standard data analysis tool
Data mining techniques for dealing with large data sets
Exploratory data analysis systems to build hands-on experience
Program Basics:
Cumulative GPA of 3.0 (B) is required to complete certificate
Courses can be counted toward graduate degrees in economics ( M.A. in Economics) or computer science ( M.S. in Data Science)
Current IPED students specializing in international banking and finance may fulfill the certificate requirements as part of their 12 master's degree courses by taking applied econometrics in the fall of their first year and algorithms and data analysis in the fall of their second year
Classes are mostly held at the Rose Hill campus with the exception of CISC 5790 Data Mining
Because of its brevity, the certificate program is not eligible for US Federal Aid programs
Private loans or payment plans may be available
Application Deadline
Kindly consult the GSAS Application Deadlines web page to view the deadlines to submit the online application.
Rose Hill

Department of Economics
E-503 Dealy Hall

Tel: 718-817-4048

Fax: 718-817-1835

Lincoln Center

Department of Economics
Leon Lowenstein 924

Tel: 212-636-6381

Fax: 212-636-7153