Master of Arts in Catholic Theology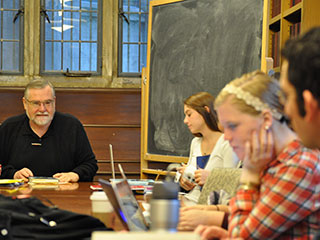 Fordham's M.A. in Catholic Theology (MACT) is a broad-based academic degree meant to introduce you to the study of theology and religion at the graduate level. A program that can be pursued either part-time or full-time, the MACT is designed to prepare you for further graduate work or to enhance your theological knowledge for a variety of vocations including education, campus ministry, counseling, psychology, law, medicine, and social work.
Our program provides both a foundational core curriculum, and the opportunity to concentrate in one of these fields of study:
Bible
Historical Theology
Contemporary Systematic Theology or Theological Ethics
Program Basics
Study with others who share your passion for the study of theology and religion, guided by professors from our internationally-recognized faculty
Students may attend on a full- or part-time basis (or, take your initial courses as a non-matriculated student; credits may be applied later toward the degree.)
Fordham juniors may apply to the MACT as an accelerated master's program.
All students take 10-12 courses, gain academic reading proficiency in German, French, or Spanish, and work with a faculty mentor to write and defend a final interdisciplinary project
As part of our graduate theology community, you will be invited to participate in the range of exciting events and opportunities offered through Theology, and our dynamic academic centers for American Catholic Studies, Jewish Studies, Orthodox Studies, and Ethics Education
Read more about our degree requirements.
Careers
Our M.A. in Catholic Theology alumni go on to pursue further graduate studies, or new and continuing work in all kinds of fields, including:
Secondary education
Campus ministry
Counseling
Law
Medicine
Lay ministry
Journalism
Social Work
Business
Post-Career Enrichment or Volunteer Work