The Kim B. and Stephen E. Bepler Chairs in STEM Fields at Fordham University
About The Kim B. and Stephen E. Bepler Chairs
Fordham University is proud to announce the establishment of four endowed professorships designed to advance Fordham's commitment to STEM education. Three chairs have already been installed: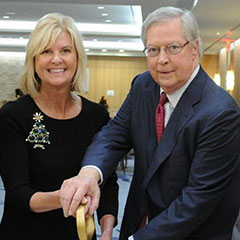 Open Faculty Chair in Physics
The search for the Bepler Chair in Physics is now open.
The Kim B. and Stephen E. Bepler Chairs in Physics
These new chairs were created thanks to a $10.5 million gift from the estate of the late Stephen E. Bepler, FCRH '64, and his widow, Kim Bepler, an honorary trustee fellow. Of this gift, $2.5 million will be added to a fund for a new science building being planned for the Rose Hill campus, a project to which the Beplers have already given $7.8 million.
Apply
Fordham invites applicants for The Kim B. and Stephen E. Bepler Chairs in . The appointment will be at the rank of professor and will carry a reduced teaching load.
Qualifications
Candidates must have a Ph. D. degree in Physics or Astronomy with postdoctoral experience, as well as strong evidence of an established research program. The applicant must also be able to teach a variety of courses in Physics and Astronomy at the undergraduate level. Preference will be given to those candidates with teaching experience and the potential to engage undergraduates in research. Our location in New York City provides many opportunities for collaborative research.
About Fordham University
Fordham University is an independent, Catholic University in the Jesuit tradition that welcomes students, faculty, and staff from all backgrounds. Diversifying our faculty and curriculum is at the heart of Fordham's mission and vision. We are committed to an application process accessible to individuals with disabilities and encourage applicants to request any needed accommodation(s). We value and are committed to a host of diverse populations and cultures, including but not limited to those based on ability, age, ethnicity, gender, gender identity, national origin, race, religion, sexual orientation, and veteran status. Fordham is an equal opportunity employer.
News coverage:
Science Scholars Installed as Inaugural STEM Faculty Chairs
Fordham Couple Gives 10.5 Million for Science Education