Bronx Zoo/Wildlife Conservation Society
A Wild Exploration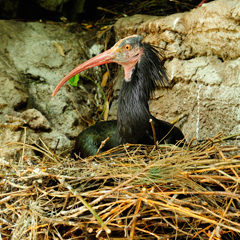 WCS zookeepers work with Fordham Prof. Alan Clark to record a romantic mix tape for the Bronx Zoo's endangered Waldrapp ibises.
The Bronx Zoo is located across Fordham Road from Fordham's Rose Hill campus and is the flagship zoological park of the Wildlife Conservation Society (WCS).

Its 265 acres house more than 6,000 animals, including some of nature's rarest species, including Asian elephants, Chinese alligators and snow leopards. Keepers and scientists of the WCS conduct conservation, animal husbandry, behavioral, and nutritional studies on animals in natural settings. Other WCS staff scientists also manage and conduct a huge field research program aimed at conserving animal diversity world wide.

Several Fordham Biology Masters and PhD graduates are staff members at the WCS, and other WCS staff members serve as adjunct biology faculty at Fordham.
Learn more about the Bronx Zoo/Wildlife Conservation Society.