International Partnerships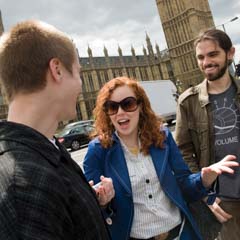 Fordham collaborates with prestigious universities and institutions world-wide contributing to our strength as a leader in the global arena. Signature partnerships include:
Fordham University's London Centre is situated in the vibrant Clerkenwell district in the Borough of Camden. The London Centre hosts study abroad programs in business and the liberal arts, along with internships.
Fordham's exchange program with the University of Pretoria offers students the opportunity for both research and community service. This program may be undertaken in the summer in conjunction with IPED's emerging markets program or with the University of Pretoria's Department of Town and Regional Planning. Fordham's Ubuntu Service Learning Program offers study of study and engagement with local communities in Pretoria.
Beijing
Fordham has a deep, rich, and long-standing partnership with Peking University in Beijing. This relationship has served as the foundation for our international initiatives in China, where we offer critical programs to international students and opportunities for faculty and students alike.
Jesuit International Partners
Fordham's companion universities around the world offer opportunities of collaborative programs, exchanges and research.