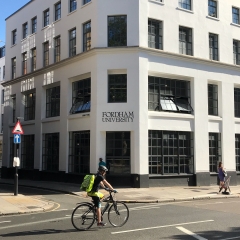 Hundreds of students from Fordham and other colleges and universities study at the London Centre each year. The London Centre hosts study abroad programs in business and the liberal arts, along with internships and community engaged learning. All program participants are housed in student flats conveniently located in residential neighborhoods within an easy commute of the centre.
In 2018 the London Centre moved to the historic and vibrant Clerkenwell. Once home to Charles Dickens and the setting many of his novels in cluding David Copperfield and Oliver twist. Today is the media and design district of the city, and a stone's throw from the City, London's financial district. This new global campus is a symbol of the University's commitment to education abroad, furthering our Jesuit mission beyond the United States.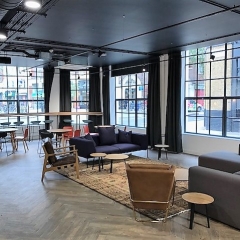 While we have great facilities in the London Centre - classrooms, administrative offices, a student lounge, a roof terrace for events, and a number of smaller study spaces - our professors also make use of the rest of London as a classroom. It's convenient location in central London is within walking distance of:
Living and studying in another culture gives students an unparalleled opportunity to understand their own. At Fordham London our students have wonderful learning, social and cultural experiences in a vibrant, diverse and international city full of history and tradition.
- Vanessa Beever, Senior Director of Fordham University in London
Fordham London Virtual Tour