Commencement for the Class of 2021
Congratulations, Class of 2021!
Videocast of the University Commencement Ceremony
May 22, 2021
The main University Commencement ceremony was videocasted on Saturday, May 22, 2021, at 10 a.m. ET. All graduates are encouraged to watch this ceremony with their families. During the ceremony, the deans of the University presented their graduates as a group, and Father McShane officially conferred all of the degrees on our graduates. The ceremony featured remarks from the 2021 Commencement speaker Admiral Michelle Howard.
Colleges and Schools Ceremonies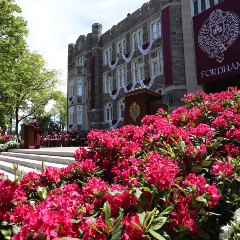 Each college and school hosted a ceremony in which their graduates were individually recognized. The dean's offices at each college and school announced plans to their graduates. Information has been added to the following pages by college or school:
Graduate School of Arts and Sciences
Student Recognition Page
All students were individually recognized on our student recognition page. Each graduate in the Class of 2021 had an opportunity to provide a photo and personal message to appear on the recognition page.
Baccalaureate Mass for the Class of 2021
Members of the community joined together in prayer and celebration during the Baccalaureate Mass on Sunday, May 15. The Mass is available on-demand.
---
Commencement Toolkit
Yard or Window Sign Templates
Commencement Logos
Campus Photos
Instagram Story Templates
Zoom Backgrounds
Commencement Social Wall
Follow the Commencement action on social media using the hashtag #Fordham2021 or leave a message on our social wall for the Class of 2021.
---