Emanuel Chirico, GABELLI '79, PAR, and Joanne M. Chirico, PAR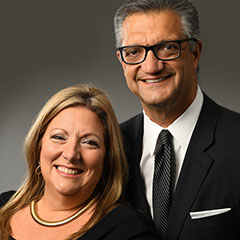 Emanuel "Manny" Chirico is chairman and CEO of the global apparel company PVH Corp. and a leader in responsible corporate citizenship. He and Joanne Chirico are Fordham parents who have invested in many areas of the University, including career services and experiential education.
Manny and Joanne Chirico met at St. Anthony's Church in the Bronx, close to their homes, and married a year and a half later, soon after his Fordham graduation. Manny Chirico worked at Ernst & Young before joining Phillips-Van Heusen—today known as PVH Corp.—in 1993, and served in several executive roles before becoming CEO in 2006. Under his leadership, the firm acquired Tommy Hilfiger, Calvin Klein, and other famed apparel companies while working to ensure fair labor conditions throughout its supply chain. His personal philanthropic work includes serving as a Fordham trustee, as well as serving on the boards of Montefiore Medical Center and Save the Children, where he has been instrumental in supporting efforts to promote early childhood education in developing countries. In 2018, he received an honorary doctorate from Fordham.
The Chiricos have three sons, all educated in the Jesuit tradition: one at Fairfield University and two at Fordham's Gabelli School of Business.
Emanuel Chirico, GABELLI '79
Emanuel "Manny" Chirico's Fordham Speech at Founder's 2021