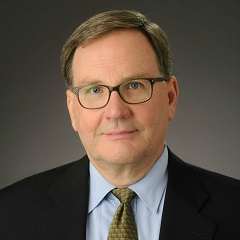 Professor of Law
Professor Patterson teaches and writes about antitrust law, patent law, Internet law, and contracts. He received his BS and MS degrees from The Ohio State University, both in electrical engineering, and he performed engineering research, primarily in robotics, for ten years. He then obtained his JD degree from Stanford Law School and practiced law at Choate, Hall & Stewart in Boston, concentrating on antitrust litigation and patent prosecution. Subsequently he clerked for Justice John M. Greaney on the Supreme Judicial Court of Massachusetts and was a Bigelow Fellow at the University of Chicago Law School before joining Fordham in 1995. Professor Patterson has been a visiting professor at Bocconi University in Milan and at the University of Navarra in Pamplona, and a visiting fellow at the European University Institute. His current research focuses on the antitrust treatment of informational issues. He is a registered patent attorney.

Education

Stanford University, JD, 1991
MS (Electrical Engineering), 1980
Ohio State University, BSEE, summa cum laude, 1978

Representative Publications

Antitrust Law in the New Economy: Google, Yelp, LIBOR, and the Control of Information (Harvard, 2017)

Antitrust Law: Policy and Practice (LexisNexis, 4th ed. 2008) (with C. Paul Rogers, Stephen Calkins, and William R. Andersen)

Antitrust and Informational Restraints, in International Antitrust Law & Policy (Fordham Competition Law Institute 2012)

The Peculiar 'New Product' Requirement in European Refusal-to-License Cases: A U.S. Perspective, in Claus-Dieter Ehlermann and Mel Marquis, eds., European Competition Law Annual 2007: A Reformed Approach to Article 82 EC (Hart Publishing 2008)

"Intellectual Property and Sources of Market Power, in Inge Govaere and Hanns Ullrich, eds., Intellectual Property, Market Power and the Public Interest (PIE-Peter Lang, Brussels 2008)

The Competitive Effects of Patent Field-of-Use Licenses, in Josef Drexl, ed., Research Handbook on Intellectual Property and Competition Law (Edward Elgar 2008).

Google and Search Engine Market Power, Harvard Journal of Law and Technology Occasional Paper Series (July 2013)

Leveraging Information about Patents: Settlements, Portfolios, and Holdups, 50 Houston Law Review 483 (2012)

Must Licenses Be Contracts?: Consent and Notice in Intellectual Property, 40 Florida State University Law Review 105 (2012)

Standardization of Standard-Form Contracts: Competition and Contract Implications, 52 William and Mary Law Review 327 (2010)

Non-Network Barriers to Network Neutrality, 78 Fordham Law Review 2843 (2010)

Contractual Expansion of the Scope of Patent Infringement Through Field-of-Use Licensing, 49 William and Mary Law Review 157 (2007)

Inventions, Industry Standards, and Intellectual Property, 17 Berkeley Technology Law Journal 1043 (2002)

The Role of Power in the Rule of Reason, 68 Antitrust Law Journal 429 (2000)

When Is Property Intellectual? The Leveraging Problem, 73 Southern California Law Review 1133 (2000)

The Market Power Requirement in Antitrust Rule of Reason Cases: A Rhetorical History, 37 San Diego Law Review 1 (2000)

Conflicts of Interest in Scientific Expert Testimony, 40 William and Mary Law Review 1313 (1999)

Coercion, Deception, and Other Demand-Increasing Practices in Antitrust Law, 66 Antitrust Law Journal 1 (1997)

Antitrust Liability for Collective Speech: Medical Society Practice Standards, 27 Indiana Law Review 51 (1993)

Search Engine Objectivity, Concurring Opinions (Nov. 23, 2013)

Bowman v. Monsanto: A Primer and a Solution, madisonian.net (Feb. 18, 2013)

Manipulation of Product Ratings: Credit-Rating Agencies, Google, and Antitrust, CPI Antitrust Chronicle, April 2012 (1)

Should Regulators Treat Google Like Standard & Poor's?, Forbes.com (Sept. 29, 2011)

Antitrust Law
Patent Law
Contracts
Blockchain and/or the Law
Computer Programming for Lawyers (Spring 2019)

Below are some of the projects on which I am currently working. Students who are looking for research topics should feel free to contact me if any of these projects sound interesting, because I could probably suggest a related paper topic.

Antitrust and Information (book project)

Information goods are becoming an increasingly important part of the economy. Yet antitrust law, our most important market regulator, does not have an analytical approach to information goods that recognizes their differences from tangible goods and services. The goal of this project is to develop such an approach.


Product Design and Antitrust

A number of antitrust rules turn on relationships between markets. Those relationships, in turn, often depend on product design decisions, and antitrust is often reluctant to question such decisions. It would be useful if antitrust had a means to determine which design decisions should be left to the firms making those decisions and which should be subject to legal second-guessing.


The Impact of E-Discovery on Antitrust

E-discovery is revolutionizing antitrust and other litigation. But it might also have an impact on substantive rules in antitrust.