Office of Professionalism Staff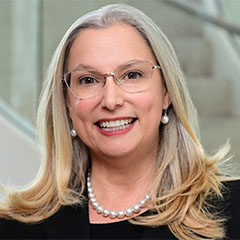 Professor of Law
Fordham Law School's professionalism program reflects Linda Sugin's vision for expanding the scope of legal education to include emotional support, leadership training, and essential skills that are not traditionally included in the law school curriculum. As Associate Dean for Academic Affairs, Sugin designed and launched the Law School's two signature professional programs: the Peer Mentorship Program and the House System.
The defining feature of the Peer Mentorship Program is an academic course for mentors developed and taught by Sugin and adjunct teachers under her supervision. In 2020, the instructors joined with the student affinity groups to strengthen both intra-cultural and inter-cultural mentoring and community at the law school.
The Law School's 2016 Strategic Plan, which focused on the student experience, imagined a House System as a central component of the Law School's effort to build a stronger community for students. Under Sugin's leadership, the House System has grown into an integrated support system for first-year students that engages faculty, administrators, and upper-level students.
In addition to launching these two signature professionalism programs, Sugin overhauled the Law School's orientation program. Under Sugin's leadership, the August orientation for incoming students was reconceptualized to focus on professional identity development and emotional preparation for law school. These new elements of August orientation were introduced in 2018 and continue to develop. They were crafted to supplement and dovetail with the other academic-focused programs in orientation, including Quantitative Methods for Lawyers, a four-part course on quantitative tools that lawyers need to understand, which Sugin spearheaded in 2014 and continues to lead. Sugin also created a new January orientation for first-year students, first implemented in 2020, as a day focused on diversity, equity, and inclusion—a crucial component of professionalism education for law students. In the fall of 2019, she worked with the full-time faculty to add diversity, equity, and inclusion training to full-time faculty development. Sugin also implemented mandatory diversity, equity, and inclusion training for all adjunct faculty prior to the start of the semester in fall 2020. She chaired a committee of faculty, students, alumni and administrators to search for the Law School's Assistant Dean of Students and Diversity and recruited Kimathi Gordon-Somers to the role in February 2020.
Recognizing the breadth of professionalism training that may benefit students, Sugin recruited new adjunct faculty to the Law School to build out the academic curriculum focused on nontraditional professional skills, professional identity formation, and professional values. As associate dean, she added new courses on transitioning from law student to lawyer, the lawyer as business advisor, diversity in law practice, positive psychology and lawyering, the job of in-house counsel, and law firm practice management. She also worked with the library to build programs and courses focused on student mastery of electronic resources and technology-based legal skills.
In 2019, Sugin created the position of director of professionalism and recruited Jordana Confino into that role to bring wellness expertise and a greater focus on student mental health to the Law School, within the umbrella of academic affairs. Sugin and Confino collaborate closely on all aspects of the Office of Professionalism's work.
Sugin has been on the faculty since 1994 and has taught courses in Federal Taxation, Tax Policy, Nonprofit Organizations, Corporations, Contracts, and Quantitative Methods. Sugin was the 2007 recipient of Fordham Law School's Teacher of the Year Award and the 2021 recipient of the Dean's Medal of Achievement.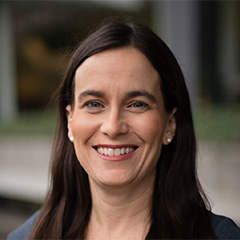 Marta Ricardo
Assistant Dean of Professionalism and Director of Lawyering Skills
[email protected]
Room 9-03
Marta Galan Ricardo is the Assistant Dean of Professionalism and Director of Lawyering Skills at Fordham Law School. She oversees the Law School's professional skills and professional identity formation initiatives and programs by leading the Office of Professionalism and the Fundamental Lawyering Skills program.
Ms. Ricardo previously served as the Dean of Career Services at Columbia Law School. She received her J.D. from Columbia in 1994 and her BA in Political Science with highest honors from University of Florida. Ms. Ricardo spent most of her professional career working as a lawyer, rating analyst, and investment banker in the structured finance industry. She returned to work at Columbia Law in 2007 as an academic counselor and joined the Office of Career Services in 2009 working with alumni and international students. Ms. Ricardo is an active member of the New York State Bar Association where she served as the Chair of the Committee on Legal Education and Admission to the Bar and is a member of the Committee on Attorney Well-Being. She also served as the Chair of the Well-Being Section of the National Association for Law Placement. She is most proud of being part of the effort to eliminate the mental health question on the NY bar admission application.
Maya FitzGerald joined Fordham Law School in the spring of 2021. As the Director of Professionalism, she coordinates all aspects of the 1L house system, including the Professionalism Fellows and Board of Student Advisors programs. Additionally, she provides support to the Law School's wellness, professionalism, and peer mentorship offerings. Prior to joining Fordham, Maya worked at Georgetown University Law Center on the RISE program, an initiative that serves law students from historically underrepresented backgrounds in the legal field.
Education
Franklin & Marshall College, BA
Georgetown University, MPS in Higher Education Administration