Commuter Student Services (CSS) wants to remind you that there are places on campus where you can go to feel welcome and comfortable. In addition, for Fall 2020, there are additional LC Study Rooms available to all commuter and resident students.
Student Lounge
The lounge features comfortable seating, a view of the Plaza, and wifi access. LC undergraduate clubs also use this room for some events in the evenings.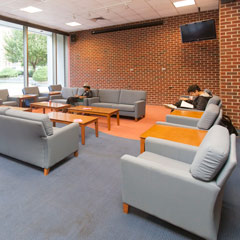 LL Outdoor Plaza
Known as the "Plaza" to Fordham Lincoln Center students, is the hub of campus life. Centrally located between McMahon Hall, Lowenstein Center, 140W, and the Law School, the Plaza is a manicured courtyard with views of the cityscape and Hudson River.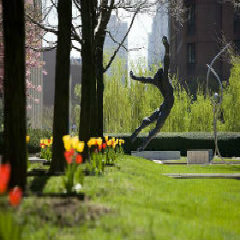 140W, Garden Lounge
The lounge features an Argo Tea, wireless Internet access, and plenty of tables for studying. This lounge is located right down the hall from the Office for Student Involvement.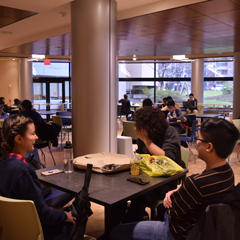 Atrium in the Ram Café
The Atrium in the Ram Café is located in the back of the Ram Café, the atrium is a glass-enclosed space where students can eat their lunch indoors while they enjoy the view of the outdoors. Students use this space to meet with classmates on group projects.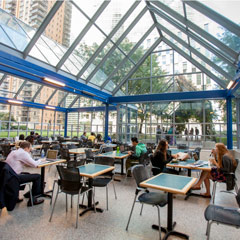 Other Resources
In addition to the hangout areas we have academic resources available to commuter students.
140W Plaza Level
The Quinn Library is where you will find photocopiers, reserved reading and a brand new audio-visual lab, not to mention extensive books for loan and periodical holdings. It is also a quiet spot to study.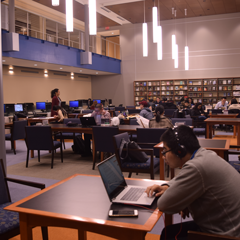 Fitness Center
McMahon Hall, Second Floor
The fitness center is a great way to spend an hour or two before, between, or after classes. With treadmills, Cybex machines, and other equipment, the use of the fitness center is free for all students, including commuters.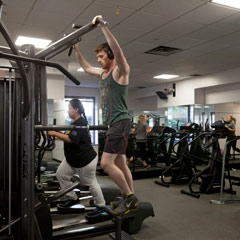 Computer Labs
Lowenstein, Third Floor
Open Monday through Friday, 8:30 a.m. to 8:30 p.m., the computer labs are a favorite spot for commuters. The computer center offers both PCs and Macs, a variety of software, and Internet access.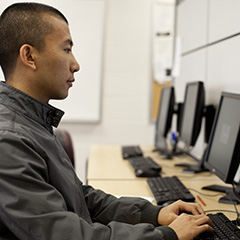 Lowenstein, Third-Floor Lounge
The third-floor lounge is a study space with outlets and wireless Internet access for laptops.